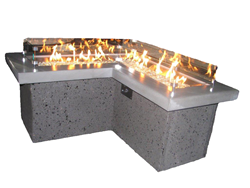 Fire with an edge.
Minneapolis, MN (PRWEB) May 08, 2014
The Outdoor GreatRoom Company™, the leader in outdoor living products and design, is pleased to announce The Pointe Fire Pit Table, newly designed for 2014. This unique gas fire pit is designed in an "L" shape with two Crystal Fire™ Burners meeting at a 90-degree angle—the first of its kind.
The Pointe Fire Pit Table features a sleek modern design with a black stucco base and Midnight Mist Supercast Top. Perfect for use in: corners, with modern "L" shaped outdoor sofas, around pools, defining space outdoors, and in commercial settings. This design is both durable and beautiful—fire with an edge.
FEATURES

Dark Grey Midnight Mist Supercast Top
Outdoor rated black stucco base
Pair with optional glass guard to enhance flame
Stores 20 lb. LP tank in base or can be converted to natural gas
Battery operated igniter system
Height: 23.75" Length: 52.75"(each section) Depth: 25.5"
ABOUT THE OUTDOOR GREATROOM COMPANY
The Outdoor GreatRoom Company™ (OGC) manufactures unique, upscale products with design appeal for indoor and outdoor living spaces. Products include outdoor fire pits and fire pit tables, pergolas, outdoor kitchen islands, indoor/outdoor fireplaces (gas, electric, gel), grills (gas and electric), outdoor patio furniture, and accessories. Visit http://www.outdoorrooms.com for more information.