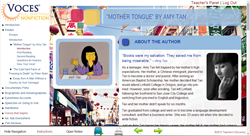 Auburn Hills, Michigan (PRWEB) May 06, 2014
There's a new kid on the block, or rather in this case, a new etextbook platform in schools. The Voces® platform developed by Teacher's Discovery allows all facets of an etextbook, including text, practice exercises, projectables, videos, audio, reinforcement games and reportable assessments, to be accessed through a single portal. The "all in one place" solution promises easier user interface, drastically downsized familiarization times, and time saved over moving from portal to portal. Current etextbook models use separate portals for each component of each etextbook. The Voces eTextbook platform is web-based and compatible across all modern browsers and operating systems. It is currently being used on iPads, Chromebooks, laptops and in computer labs.
Changing from the multi portal mode drastically affects price. "This will drop the cost of etextbooks to schools from $60 and up per student to under $5 a kid," says Skip McWilliams, President of Teacher's Discovery.
Teacher's Discovery is currently rolling out the Voces platform with seven high school etextbooks including: Introductory Spanish, Spanish 1 and 2, Grammar & Writing, Literature, Full-Spectrum Non-Fiction, and American History. As of May 1, 1,638 schools are using Voces eTextbooks.
"...Voces has enabled me to add the culture piece to my teaching that I was looking for in a very authentic way...I am a 21st century teacher who uses Twitter and blogging and iPads and all sorts of technology in my classroom and Voces is the perfect fit," says Lauren Beversdorf, Lake County, Illinois.
According to Sue Ritchie, Burr and Burton Academy, Manchester Vermont, "...For the first time, we have a curriculum that works and is fun; and allows us to be creative if we want to do other activities. However, it also allows absent students to look at what they missed and try to keep up!"
McWilliams places emphasis on the idea that "...the Voces platform is an improvement on accepted pedagogy and not a replacement for the proven teaching methods."
"However," he adds, "the $5 price point will fundamentally change the way school districts budget for textbooks. With less money in play, districts have more flexibility and can abandon the lengthy multi-year adoption process. There is no reason why complete etextbooks should cost more than $5 per student."
Please visit http://www.vocesetextbooks.com to review the Voces eTextbooks.
About Teacher's Discovery: Teacher's Discovery is a division of American Eagle Company Inc. Started in 1978 by Skip McWilliams, it became the largest supplier of classroom supplementary materials for grades 9 through 12. McWilliams enjoys pointing out, "Every high school student comes in contact with Teacher's Discovery several times every day." Early on, Teacher's Discovery broke the $300 price point for classroom movies, leading the industry to drop prices to under $50.