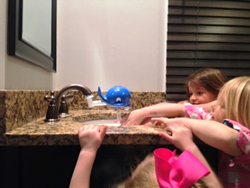 "This product could really help reduce frustrations children experience when performing independent skills like hand washing," says Tara Martello, MS, OTR/L, (Philadelphia, PA)
Philadelphia, PA (PRWEB) May 07, 2014
Based out of Philadelphia, Whaleywasher LLC has created the world's first combination faucet extender and soap dispenser. Their patent pending technology allows adults to preset water flow and temperature, making hand washing safe and easy for children. The character design also makes hand washing fun!
Rebecca L. Trotta, PhD, RN Inventor / Co-founder and mother of three; first had the idea when pregnant with her third child. At that time her middle child was too small to reach the faucet, even with a step stool. So when he needed to wash his hands, it required that she stop what she was doing to hoist him up on the counter top. She feared that lifting her son every time he needed access to the sink could result in an injury for one or both of them. It also was not very effective. She thought that their hand to be an easier way.
"Only putting water within reach, but not soap, merely solves half the problem in ensuring effective hand washing. The product is effective in ensuring access to both soap and water," says Trotta.
A Revolutionary Product
Currently, there is nothing on the consumer market that combines a faucet extender and soap dispenser that permits adults to preset water flow and temperature. "You can purchase bulky stepstools, rubber faucet extenders, awkward faucet handle attachments, and soap dispensers, all in an effort to provide your children with an independent and fun way to get you them to wash their hands," says Vinny Trotta, CEO and Co-founder. "Or you purchase one solution that includes all the necessary items into one, for a fraction of the cost, and have comfort knowing that your children are safely and efficiently washing their hands."
"Hand washing is an important early childhood self-care skill. This product promotes independence in handwashing, which will positively impact healthy child development,"
states Allison Evans, PhD, Pediatric Neuropsychologist (Boston, MA)
Product Features
Includes built in soap dispenser, basic temperature control, the ability to connect to any household with a removable aerator, as well as outside water bib. The whaleywasher is also the first eco-friendly solution for child hand washing. By incorporating a "one touch" aerator into the design adults can preset the water pressure, and should expect a water savings ratio of approximately 48%.
"This product could really help reduce frustrations children experience when performing independent skills like hand washing," says Tara Martello, MS, OTR/L, (Philadelphia, PA)
Why Hand Washing is so Important
Hand washing: Clean Hands Save Lives – Hand washing is like a "do-it-yourself" vaccine—it involves five simple and effective steps (think Wet, Lather, Scrub, Rinse, Dry) you can take to reduce the spread of diarrheal and respiratory illness so you can stay healthy. Frequent hand washing, particularly before and after certain activities, is one of the best ways to remove germs, avoid getting sick, and prevent the spread of germs to others (http://www.cdc.gov/handwashing/).
Kickstarter
"We are excited about the potential Kickstarter has to offer," say Zach Berge, JD, Business Advisor to Whaleywasher, LLC. "There are an increasing number of childrens' products included in their Design Category, and many have experienced exceptional success. We hope to join the ranks of the "funded" soon." https://www.kickstarter.com/projects/2036240265/whaleywashera-revolution-in-hand-washing-for-child
Mission & Future of the Whaleywasher
Founded in 2013 by husband and wife, Rebecca and Vinny Trotta, Whaleywasher's mission is to promote proper hygiene while creating products that simplify parenthood. "We aim to simplify hand washing and make life easier. This fun and innovative solution can instill confidence and independence during the formative early childhood years," says Rebecca L. Trotta, PhD, RN Inventor and Co-founder. "Although this product is in the development phase, our market research shows it will fill a significant gap in the 'child safety and bath' product category," said Vinny Trotta.
Whaleywasher LLC is owned and operated by VGL Group LLC. VGL stands for the names of our three amazing children; Vittorio, Genevieve, and Luca and the Very Good Life we enjoy with them as parents and role models.
Contact Information
Media Relations
info(at)whaleywasher(dot)com
917.406.0060
Website: http://www.whaleywasher.com
Facebook: https://www.facebook.com/whaleywasher
Twitter: https://twitter.com/whaleywasher
Pinterest: http://www.pinterest.com/whaleywasher/
###