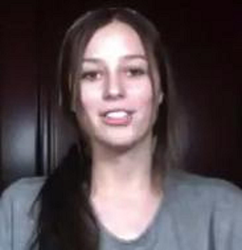 (PRWEB) May 05, 2014
"The first thing you need to know about this song is that you need a capo on the third fret of your guitar," says Zollars. Paige starts off this easy acoustic guitar lesson by going over the chords that are used which are: Am (A minor), G, C and F. Next, Paige demonstrates the verse as follows: the chords in the verse are Am and G and the strumming pattern is down down down up down up counted as 1 2 3 & 4 & for Am and then, up up up up down up counted as 1 2 3 & 4 & for the G. Next Zollars demonstrates the chorus as follows: the chords used in the chorus are C, G, Am, G and F and the strumming pattern is down down up up down up and is counted as 1 2 & 3 4 & and is repeated once for each chord in the Chorus.
Throughout the lesson, Paige performs the song slowly as well as at tempo so you can follow along with her easily. Complete chord charts and guitar TABs are available at SongTabs.com.
A Capo, short for capotasto, which is Italian for "head of fret board", is a device used on the neck of a fretted instrument to shorten the playable length and raise the pitch.
Maroon 5 is an American pop rock band from Los Angles, California. The band formed in 1994 while the band members were still in high school. The band has had some lineup changes since there inception keeping only the vocalist, keyboardist and bassist as original members. Over the course of there career, they have released four studio albums and have received three Grammy Awards, three Billboard Awards and three American Music Awards.
Paige Zollars
Has been a singer and song writer for the last 6 years and performs at fairs and coffee shops in her area. She has an original song "Broken" available on ITunes and works for a company called KlabLab where she makes educational songs for the classroom.
About SongTabs.com
SongTabs.com is a great online resource for learning to easily play your favorite songs on the guitar. With several great instructors and a constant growing catalog of songs, everyone can learn to play there favorite songs.