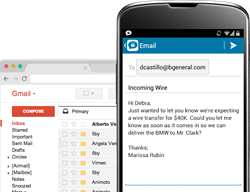 "It's for bigger organizations who want confidentiality and a way to communicate as if they were having a conversation in person without privacy leaks, says Crisptext's Co-Founder, Mayer Mizrachi.
Miami, Florida (PRWEB) May 06, 2014
Criptext, a secure B2B messaging application, launches today at TechCrunch Disrupt NY 2014, offering large corporations and international governments a platform to control the confidentiality of their organization's communications. Launched amid a slew of privacy concerns over messaging applications, Criptext's unique platform offers more security and control than the current messaging landscape. Although the company is only launching the product today, Criptext's current clients include one international government and a major corporation, both who use the platform for internal confidentiality purposes.
Criptext's Co-Founder, Mayer Mizrachi, comes from a political background, and thus understood the need for confidentiality. "Criptext is not about hiding secrets, nor is it really even for a consumer base," he says, "It's for bigger organizations who want confidentiality and a way to communicate as if they were having a conversation in person without privacy leaks. Since the majority of leaks come from human error, Criptext prevents this from happening." "Rather than controlling what is being said, control the method in which it's said."
The platform works by granting the account administrator full control over who has access to specific functionalities and who doesn't. When a user receives a message, it appears in a separate window, not tied to the sender's name, and all information is deleted after 14 seconds - with no option to save it. Each message sent is untraceably encrypted, which is essentially a temporary mask that protects the sender's identity. Additionally, the messages are screen-shot proof, providing another layer of security. Despite this high-level of security, the application boasts an easily managed, intuitive interface: the user simply downloads the app and enters his or her username and passcode to begin messaging without the hassle of adding contacts.
Criptext offers packages tailored to each client, allowing clients to purchase different amounts of user accounts and to customize the platform settings according to their needs. The company builds all software in-house without outsourcing, and plans to continue innovating in the field of enterprise communications. For more information on Criptext, visit their website.
About Criptext
Criptext is a secure B2B messaging application that provides message control and security for large corporations and governments. Using Criptext, companies are actively protecting the confidentiality of their communications, both within and across organizations. Criptext works on both iOS and Android, and provides a very simple interface for its users.
About TechCrunch Disrupt NY 2014
TechCrunch Disrupt NY 2014 is TechCrunch's fifth annual conference in New York City. The format combines top thought-leader discussions with new product and company launches. Morning executive discussions debate technology-driven disruptions in many industries, while the afternoons are reserved for the Startup Battlefield, where some 30 new companies will launch for the first time onstage, selected to present from numerous applications received from around the world. The winning company will receive a $50,000 grand prize and the Disrupt Cup at the conclusion of the conference. The conference is May 5-7, 2014 at the Manhattan Center, 311 West 34th Street (at 8th Ave.) Manhattan.