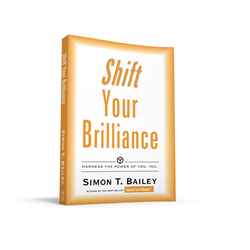 I hope to inspire you to tune into your own inner voice – a voice perhaps too long silenced by fear and apprehension.
Windermere, FL (PRWEB) May 07, 2014
In today's workplace, only 30 percent of American workers report being engaged in their jobs, while 52 percent are not engaged and the final 18 percent admit to being actively disengaged. With 70 percent of workers in the United States not engaged with their jobs, there is a growing need to reignite potential and spark creativity and productivity. Former Disney Institute sales director and popular keynote speaker, Simon T. Bailey says now is the time for individuals to harness their brilliance, and he's on a mission to help people make this shift, one day at a time.
In his new book, Shift Your Brilliance – Harness the Power of You, INC. (Sound Wisdom, May 2014), Bailey looks at what it means to unlock true potential, encouraging readers to shift their thinking and ignite a vujá dé moment, or a way of looking at things differently.
He has created "Seven Days to Brilliance," which is a free week-long challenge featuring daily exercises that encourage people to take a serious look at their potential to make a shift to brilliance.
"I hope to inspire readers to tune into their own inner voice – a voice perhaps too long silenced by fear and apprehension; and to hearten them to watch for glimpses of what their future holds and what they can become," says Bailey.
Using the hashtag #7DTB, those taking part in the challenge will come together to encourage and hold each other accountable for seven days. Bailey will engage with participants to help them become "shifters," and each day will focus on:
Day 1 – S: See differently. "Shifters" must be willing to examine everything they do and ask themselves if they are creating the tomorrow they want.
Day 2 – H: Harness the power of You, INC. "Shifters" take control of their future by deploying their best thinking in growing themselves every day and draw confidence from their personal gifts and talents by doing a quarterly assessment of their career/business portfolio.
Day 3 – I: Ignite a fresh vision. "Shifters" do the inner work to discover what motivates them – the source of their energy is natural and essential for personal success. From there they need to commit emotionally, which will help boost their confidence and help them experience complete satisfaction.
Day 4 – F: Fuel their mind. "Shifters" are always looking for new things to learn as well as new people to connect with. They look for high-grade relationships and search for a mentor to help guide them as they explore their new vision.
Day 5 – T: Take the wheel. "Shifters" don't wait for what is going to happen tomorrow, instead they go to it and own their future. Taking the wheel starts with personal accountability. It's about taking responsibility for their own future, their own outcomes.
Day 6 – E: Engage their gears. "Shifters" put their life into drive and position themselves where the action and ideas are happening. They take core motivation and use it as motivation to help them propel their vision into reality.
Day 7 – R: Restart their engine. There are seasons in a "shifter's" life that require them to restart their engines. They take the initiative to find the keys to shift from average to brilliant.
Readers can start their own 7 Days to Brilliance journey at: ShiftYourBrilliance.com.
About: Simon T. Bailey is the former sales director of the world-renowned Disney Institute and founder of Brilliance Institute, Inc. Bailey has been cited by Meetings and Conventions magazine as "one of the best keynote speakers ever heard or used," putting him in the same category as Bill Gates, General Colin Powell, and Tony Robbins. Speaker Magazine cited him as one of the top 25 "hot speakers" shaping the profession, and in 2013, Bailey was Meetings Net Editors' pick for favorite speaker of the year. He is a weekly columnist for American City Business Journal and has been quoted in Entrepreneur Magazine. He has spoken in front of worldwide audiences and impacted over a million people working with brands like Verizon, Chevron, McDonald's, Nationwide, Wells Fargo and Subway. For more information, please visit http://www.simontbailey.com.