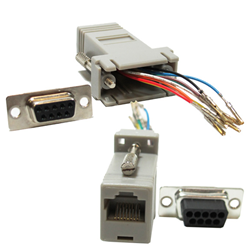 Our modular adapters have a variety connectors. Each modular adapter is exclusively designed to help you bridge the gap between different devices and access modular connection within your network.
Hayward, CA (PRWEB) May 20, 2014
SF Cable, a company distributing feature-rich computer accessories, cables, security camera products and mobile accessories, has launched a complete full line of network modular adapters. Helping its consumers maintain a constant connection between incompatible electronic systems, the company has offered flexible, purposeful adapters for the networking industry.
One of the major offerings of the SF Cable's recently upgraded product inventory is RJ11, RJ12 and RJ45 modular adapters. When requested to highlight the applications of these modular adapters, the official spokesperson of SF Cable said, "RJ11, RJ12 and RJ45 modular adapters can be used for modems, serial printers, terminals, point-of-sale equipment, and various other serial devices. We have offered compliant, user-friendly modular adapters that give you instant connectivity. This is the best option you can use for any operational network. They can make multiple incompatible devices or systems work together efficiently."
The company offers several versions of modular adapters, thus allowing its consumers to choose a model according to their application. The company also offers custom Pin-out wiring to customer specification.
SF Cable claims to offer multiple forms of modular adapters for varied systems and applications at affordable rates. To explore or purchase the company's offered products, please visit http://www.sfcable.com/search.html?q=modular+adapter.
About SF Cable
SF Cable, a company dedicated to designing reliable electronic equipment, offers a vast array of cables and accessories. Established in 2002, this wholesale company deals in environmentally friendly and RoHS compliant solutions. Offering custom solutions at reasonable prices, SF Cable supports all its products with special lifetime warranties.
The product collection of SF Cable features more than 8,000 SKUs of computer cables, home theater systems, laptop accessories, and other networking solutions. SF Cable satisfies its consumers' unique needs with quality merchandise, competitive prices, and quick delivery services.
Contact Details
SF Cable, Inc.
28300 Industrial Boulevard Suite F
Hayward, CA 94545-4439
Toll-Free: 888-275-8755
Email: customerservice(at)sfcable(dot)com