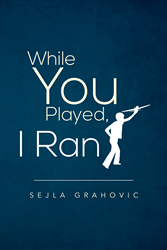 Sometimes life isn't fair for us but we still go on, what else can we do.
ST. LOUIS (PRWEB) May 07, 2014
The Bosnian War paved a long road to freedom for Sejla Grahovic. From a destroyed home to living in a refugee camp, she made her way to St. Louis.
The life of an immigrant is a challenging journey. With a world of war around her, Grahovic was forced to leave her home in hopes of a better life. With challenges of learning a new language and the necessity of growing up before her time, Grahovic takes readers through the life of an American immigrant in her book "While You Played, I Ran."
Throughout Grahovic's story, she never gives up on her family, schoolwork or her life, even when it becomes too hard. Grahovic experienced a literal and figurative form of war throughout her life. She shares her story in hopes to inspire others to keep fighting for their lives and dreams.
This year marks 20 years post-war in Bosnia, and the country is still picking up the pieces, emotionally and structurally. While the war was only a small part of Grahovic's journey, the impact of it changed her life drastically.
"Sometimes life isn't fair for us but we still go on, what else can we do," Grahovic said.
"While You Played, I Ran"
By Sejla Grahovic
ISBN: 978-1-49317-387-7
Softcover, $15.99
Hardcover, $24.99
Ebook, $3.99
Available on Amazon, Barnes & Noble and Xlibris
About the author
Sejla Grahovic wrote her story for herself and her family with the encouragement of her fiancé and five-year-old son. Currently, Grahovic is working towards a career in nursing. She has a love for helping people and uses her Bosnian roots to help other Bosnian's in America.