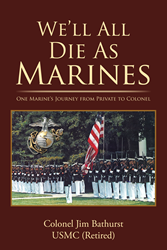 I hope to continue guiding future leaders on any kind of career path.
Springfield, Ill. (PRWEB) May 06, 2014
Many military memoirs can be inaccessible to civilians unfamiliar with the armed services. They can contain confusing acronyms, assume the reader already understands rank structures or can often be written in a self-flattering light; the book being a means to an end in a political race or similar motivations.
This is not so with retired Marine Col. Jim Bathurst's new memoir titled "We'll All Die as Marines." Bathurst painstakingly re-wrote the initial draft after realizing that the military lingo can be very confusing to laymen. He did not write this for himself, but rather to try to instill the qualities of leadership that he has learned throughout his career from a troubled private who had just dropped out of high school all the way to a colonel with incredibly demanding assignments.
"I wrote this in the hopes of guiding young marines, both enlisted and officers, so that they can consider my advice about the demanding requirements of leadership and possibly to learn from the mistakes I made and the successes and opportunities I've worked toward," Bathurst said. "I hope to continue guiding future leaders on any kind of career path."
High-ranking officers are not well known for their artistic endeavors, but Bathurst chose to write a more abstract memoir than is usually found in a military post exchange. He wrote about every rank with shifting perspective.
"The chapters are written from the perspective of my rank during the time I'm discussing," Bathurst said. "I wanted each 'me' throughout my career to be able to speak for themselves. I tried to tell about my time as a private through the eyes of a private."
"We'll All Die as Marines" sounds like a morbid title, but it is not. It is about the corps, not corpses. It is about the love and commitment to the organization and people to which Bathurst freely gave his time, blood and spirit. Filled with humor, advice, tragedy, frustration and all the triumph that Bathurst was able to experience in his nearly 36-year career, he says he did not once think about retirement until the day, 36 years after boarding a bus for boot camp, he felt that he had done his duty.
For more information, visit: http://www.wellalldieasmarines.com.
"We'll All Die as Marines"
By Colonel Jim Bathurst, USMC (Retired)
ISBN: 978-1-4759-5692-4
Available in softcover, hardcover, e-book
Available on Amazon, Barnes & Noble and iUniverse
About the author
Bathurst served in the USMC for nearly 36 years and had many interesting duty stations, some of which were platoon commander in Vietnam, security officer at Camp David, as well as instructor and liaison officer at the JFK Special Warfare Center.
For review copies or interview requests, contact:
Matthew VanScoik | mvanscoik(at)bohlsengroup(dot)com | 317.602.7137