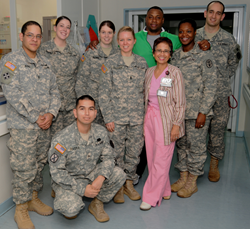 'The security of our nation depends on the dedicated service of our men and women in the armed forces,' said Vincent. 'This visit allowed me to see them face to face, look into their eyes, and gave me the opportunity to express my love and gratitude.'
Arlington, VA (PRWEB) May 05, 2014
Former Pro Bowl defensive back turned NFL executive vice president of football operations Troy Vincent participated in his first USO tour to Germany May 1st – 2nd. While in the region, Vincent toured the USO Warrior Center, visited with wounded warriors and medical staff at Landstuhl Regional Medical Center and delivered an inspirational keynote address at the Army Medical Enlisted Birthday Celebration and NCO Induction Ceremony at Vogelweh Air Base.
DETAILS:

By close of his USO visit to Germany, Vincent visited with more than 800 troops, military families, hospital personnel and volunteers.
Vincent's USO tour kicked off on May 1st with a visit to the USO Warrior Center, where he toured the 3,400 sq. ft. facility, attended a USO Warrior Center BBQ alongside troops and signed autographs for wounded warriors.
The good times continued on May 2nd, when Vincent walked the halls of Landstuhl Regional Medical Center and spent quality time talking with wounded warrior in the Intensive Care Unit and various hospital wards. Later that evening, Vincent attended the Army Medical Department Enlisted Corp dinner and NCO Induction Ceremony, and provided heartfelt words of encouragement and thanks to hospital staff for their commitment to medical attention and care given to wounded warriors and their families.
In addition to inducting more than 36 non-commissioned officers, the event commemorated the 127th Year Observance of the Medical Enlisted Corp.
On March 19, 2014, Vincent was named NFL executive vice president of football operations. In this role, he oversees all aspects of football operations in the league office with a focus on quality and innovation. His responsibilities include officiating, integrity of the game, on-field discipline, game operations, player personnel and college relations, among other duties.
Vincent joined the NFL office in 2010 to lead the league's player engagement department, which provides support programs for players and their families. He was promoted to senior vice president in 2013 and has recruited more than 200 NFL former players as ambassadors to help implement the department's programs.
Vincent was a first-round draft choice of the Miami Dolphins in 1992. A cornerback from the University of Wisconsin, Vincent played 15 years in the NFL for the Miami Dolphins, Philadelphia Eagles, Buffalo Bills, and Washington Redskins. He was named a Pro Bowl player five times and was the winner of the Walter Payton NFL Man of the Year Award in 2002. Prior to his current position, Vincent served as president of the NFL Players Association from 2004-2008.
This USO trip marks the continuation of the NFL's long history of honoring veterans and active duty military members through its annual Salute to Service campaign, which is designed to celebrate and support the contributions of the military community.
QUOTE:
Attributed Troy Vincent:
"The security of our nation depends on the dedicated service of our men and women in the armed forces. This visit allowed me to see them face to face, look into their eyes, and gave me the opportunity to express my love and gratitude for their work. The commitment, bravery, and dedication they display every day protects lives, and I am honored to be able to say 'thank you' in person on behalf of all of us at the NFL."
MULTI-MEDIA:
Tour Photos: http://bit.ly/1kpvv0d
About the USO
The USO lifts the spirits of America's troops and their families millions of times each year at hundreds of places worldwide. We provide a touch of home through centers at airports and military bases in the U.S. and abroad, top quality entertainment and innovative programs and services. We also provide critical support to those who need us most, including forward-deployed troops, military families, wounded warriors, troops in transition and families of the fallen. The USO is a private, non-profit organization, not a government agency. Our programs and services are made possible by the American people, support of our corporate partners and the dedication of our volunteers and staff.
In addition to individual donors and corporate sponsors, the USO is supported by President's Circle Partners: American Airlines, AT&T, BNSF Railway, The Coca-Cola Company, Grand Canyon University, JCPenney, Jeep, Johnson & Johnson, Kroger, Northrop Grumman Corporation and TriWest Healthcare Alliance and Worldwide Strategic Partners: BAE Systems, BIC, The Boeing Company, ConAgra Foods, FedEx, Lockheed Martin, Microsoft Corporation, Procter & Gamble, TKS Telepost Kabel-Service Kaiserslautern GmbH & Co. KG and Wawa Inc. We are also supported through the United Way and Combined Federal Campaign (CFC-11381). To join us in this patriotic mission, and to learn more about the USO, please visit uso.org