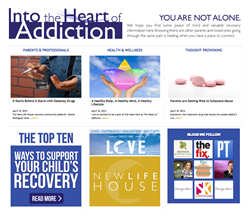 No one is immune from addiction; it afflicts people of all ages, races, classes and professions. Patrick J. Kennedy
Los Angeles, CA (PRWEB) May 06, 2014
A successful intervention has only two outcomes and Erin shares her journey through the intervention process that she went through for her son with The Heart of Addiction. She describes the key ingredients required, including how important it is that everyone is on the same page. No one else is going to fight for their child like a parent…not the community; the school system, the medical profession or the government…they might be able to help but the power of a parents love can move mountains.
Drug and alcohol abuse is tearing families apart. Most parents unknowingly enable their child's behavior without understanding that saving lives requires thinking with their heads rather than their hearts. This goes against every parent's natural instinct but makes the difference in a successful intervention. Erin explains the paradigm shift she went through as a parent to try and help Trevor at http://newlifehouse.com/successful-intervention/.
Since 1985 the New Life House recovery community has been helping families help their sons in the battle against drug and alcohol addiction. Their age-specific community-focused method is what has kept them at the center of the recovery world for almost thirty years. New Life House has extended this community with the launch of their new blog Into the Heart of Addiction. Here they offer hope and support for everyone who loves a young person struggling with substance abuse.