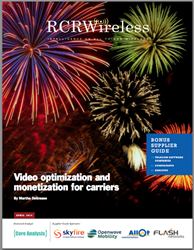 Video makes the mobile network more valuable to subscribers, but it can also turn subscribers against their carriers if it doesn't meet expectations. - Martha DeGrasse, RCR Wireless News Editor
Austin, Texas (PRWEB) May 06, 2014
Increasing efficiency of video delivery is critical for reducing costs and customer churn for network operators, according to findings from T-Mobile, Opera, and mobile industry analysts. 'Video Optimization and Monetization for Carriers' is a new full-length report and valuable resource for mobile network operators and others who need to evaluate options for efficient delivery of video over mobile networks.
Download this free report to learn about:

The role of analytics in video optimization
Transcoding and transrating
Adaptive streaming management
The challenge of encrypted video (i.e. Netflix) and the role of caching
The interaction of policy and video optimization
Network architectures (cloud vs. purpose-built hardware)
Video monetization strategies for carriers
"Video makes the mobile network more valuable to subscribers, but it can also turn subscribers against their carriers if it doesn't meet expectations," said report author Martha DeGrasse, editor at RCR Wireless News. "Software that increases the efficiency with which video is delivered can reduce costs for network operators and reduce customer churn as well."
Video optimization solutions come from mobile Internet optimization vendors who have recently intensified their focus on video, and from new competitors who have entered the market with a specific focus on video. This report and webinar introduce these companies and their various approaches to video optimization.
Analysts Patrick Lopez of Core Analysis and Sue Rudd of Strategy Analytics share perspective on the ways that software can make video delivery more efficient, and on ways that operators can and will monetize video traffic. Representatives from solutions vendors discuss the challenges and opportunities of video optimization, and its impact on mobile networks.
Watch the complimentary editorial webinar featuring:

Patrick Lopez, founder and CEO, Core Analysis
Ante Rupcic, VP - core network, Wind Mobile
Michael Gallant, co-founder, Avvasi
Robert Oberhofer, VP of solutions, Skyfire (Opera Software)
Martha DeGrasse, editor, RCR Wireless News
Companies participating in the report and/or webinar:

T-Mobile US
Core Analysis
Strategy Analytics
Flash Networks
ByteMobile (Citrix)
Openwave Mobility
Skyfire (Opera Software)
Allot Communications
Wind Mobile
Avvasi
Vantrix
Openet
InterDigital
Click here to download the feature report.
About RCR Wireless News
Since 1982, RCR Wireless News has been providing wireless and mobile industry news, insights, and analysis to industry and enterprise professionals, decision makers, policy makers, analysts and investors. Our mission is to connect, globally and locally, mobile technology professionals and companies online, in person, and now on video. Our dedication to editorial excellence coupled with one of the industry's most comprehensive industry databases and digital networks leads readers and advertisers to consistently choose RCR Wireless News over other industry publications. http://www.rcrwireless.com.