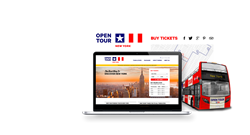 New York, NY (PRWEB) June 24, 2014
New York Web Design firm, Avatar New York, announces the launch of http://www.opentourny.com/ for Open Tour NY, a division of RATP Dev America, the North American subsidiary of the transportation giant RATP Group.
Opentourny.com is the primary marketing and ticketing channel for OpenTourNY's New York City based touristic bus service.
Avatar New York's tightly integrated team of web designers and developers built a responsive website design that achieved the goals set forth by the product owners.
The primary sales tool for Open Tour NY's marketing team, OpenTourNY.com was designed and built to provide tourists, commuters, and travel agents information about Open Tour NY's routes and packages, including interactive maps with real-time bus geo-location and multiple language support.
Avatar New York designed and developed the platform using the very latest in web technology and web design and development best practices, including a responsive web design for smartphones and tablets and a high-performace cloud hosting solution
About Avatar New York
Avatar New York is a unique interactive agency. We deliver complete digitally integrated communication solutions that create an intelligent, meaningful dialogue between businesses and their audience. Working across the communications landscape, we nurture creative relationships that cultivate progressive campaigns across multi-platform mediums.
Additional information available from:
Todd Johnson, Director of Digital Services
Avatar New York
212.361.6100
info(at)avatarnewyork(dot)com