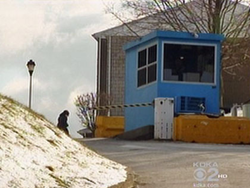 Cloud-based visitor management supports an efficient, inexpensive means to deploy powerful services. It has been working in Class A Office towers for years. This is a great opportunity to show how the product can work in other environments
New York, NY (PRWEB) May 06, 2014
OSA Global Security selects Building Intelligence's SV3 visitor solution to protect and serve the residents of an affordable housing community. With the task of securing the perimeter and denying access to unwanted visitors, OSA Global deployed SV3 as both a method to track each visit and identify every individual and compare them to their watch list of more than five hundred people.
At a housing project in Duquesne PA, with over 7,500 visitors a month and more than three hundred apartments, keeping an updated watch list is challenging. In early August 2013, OSA Global was assigned the task of trying to restore order to a very dangerous residential environment. With only one guard booth and vehicles driving through the entrance, OSA Global decided to install Building Intelligence's SV3 to secure the entry point.
As a full service security guard and investigation company located in Pittsburgh PA, OSA Global provides services to many types of facilities. Serving industrial facilities, schools, hospitals, and large venues, the OSA Global team has 50 years of guard and investigation experience. Mr. Lee Vineyard, Chief Director of Housing, at OSA Global serves as the account manager and senior officer of the site in Duquesne PA. Mr. Vineyard realized that there had to be a better way than logging visitors with pen and paper.
"Duquesne PA is a bad, small city," says Lee. "Over the last three weeks there were gun violence cases and a few robberies down the street. We needed to find a way to track visitors and provide an intelligent way for my guards to make decisions." The apartment complex receives funding through U.S. Department of Housing and Urban Development via (HUD) grants. Crime has been a problem in this particular complex remains so with many housing projects around the country.
"We knew this would be a challenging environment for any technology. Cloud-based visitor management supports an efficient, inexpensive means to deploy powerful services. It has been working in Class A Office towers for years. This is a great opportunity to show how the product can work in other environments," says CEO Jeffrey Friedman. "Working with OSA Global gave us a real opportunity to put the team and the technology to the test."
Building Intelligence's client OSA global, a full service security guard and investigation company, partnered with Mr. Lee Vineyard at the Pennsylvania Tactical Training Center in Pittsburg, PA. Lee provides tactical training to the OSA guards stationed at the Hilltop/Parkview Manor apartments. Other incidents include minor injuries to the guards and occasional gang shoot-outs in the area with stray bullets striking the housing units. Some individuals registered on the watch list have restraining orders or have outstanding warrants.
SV3 is used by the guards at the entrance. The guard checks for a valid ID and logs the make and model of vehicle. Using CardScanning Solutions' ID scan, SV3 automates the input of the name, checks the veracity of the license and searches the watch list for any close or absolute matches. If there is a match, the guards are provided instructions on exactly what there next step should be.
Guards have stated: "I definitely recommend the system for watch-list use because I really like the way it runs."
Lee stated that SV3 is "Overall a really good system to utilize." Lee Vineyard and OSA Global are pleased with the partnership they have with Building Intelligence, Inc. Lee compliments them on their "outstanding customer service and always been there when we need them."
"With the introduction of SV3 to the security industry, we are creating a new standard," says CEO Jeffrey C. Friedman. "This is truly a great way for security officers to understand threats, keep the bad guys out, and mitigate potential risks."
About Building Intelligence Inc.:
Providing innovative technology solutions for security practitioners and building owners to manage visitors, vehicles and vendors, Building Intelligence Inc. is a privately owned business based in New York City. Our cloud-based solutions are known as Shortpath, SV3 and Secure Vendor. Uniquely positioned to provide the tools for managing vendors as they enter on foot through the front door or in a vehicle at the loading dock area, our modular solution set is becoming widely adopted in many major metropolitan markets. The cloud component to our solution results in the lowest possible total cost of ownership. The greatest security risks never use the front door and managing visitors only as they enter the front is an inadequate security strategy.
Whether your company is a 50,000 square foot office building, a multi-building campus or a global corporate environment, using Building Intelligence, Inc. solutions result in the ability to have complete account of who and what unknown entities are on site and at whose request. Watch lists can be managed and enforced on a global level. Chief Security Officers can track vehicles that are on campus, identify them by relationship with an authorized person or company and maintain a complete audit trail of their visit.