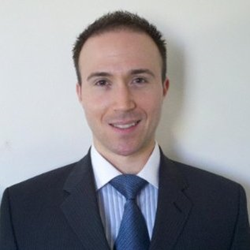 "RED has an excellent reputation in the marketplace and I'm happy to bring my experience with private label and agency commercial real estate and multifamily platforms to the company."
Columbus, OH (PRWEB) May 06, 2014
RED Capital Markets, LLC, the broker/dealer arm of comprehensive capital provider RED CAPITAL GROUP, LLC announced today the addition of Michael Franzoni as a Director, Sales and Trading. Located in Columbus, Ohio, Mike will be supporting Red's production team on all pricing/capital markets matters and will contribute to expanding current and future business platforms. Mike will also be responsible for placing multifamily debt and recycling capital through MBS executions and trading MBS and municipal securities.
Mike brings extensive knowledge and experience with Fannie Mae DUS® pricing, guidelines and execution to the Sales and Trading desk and a strong network of relationships to add immediate value to RED. Additionally, he is adept at developing efficiencies and improving processes using a variety of software platforms.
Prior to joining RED, Mike served as Assistant Vice-President, Capital Markets at Arbor Commercial Mortgage, LLC, and as an analyst at UBS Securities, LLC, in New York, NY. Mike began his career at Deloitte and Touche, LLP, in New York, NY.
Jim Croft, Chairman & CEO for RED Capital Markets said, "Mike's experience and skill set will assist RED in further expanding its distribution of mortgage-backed securities to better serve our clients, as well as identifying and pursuing additional growth opportunities for our investment banking unit."
Mike Franzoni stated, "RED has an excellent reputation in the marketplace and I'm happy to bring my experience with private label and agency commercial real estate and multifamily platforms to the company." Franzoni continued, "I'm excited to work with respected mortgage banking industry veterans and utilize my strengths in strategy and business modeling to help drive RED's ongoing commitment to deliver a strong performance to our customers."
***
About RED Capital Group, LLC
Recognized for its industry expertise, innovative and comprehensive structures, and consistently high rankings, RED CAPITAL GROUP, LLC has provided over $55 billion of integrated debt and equity capital since 1990 to the multifamily, student and seniors housing, and health care industries through three operating companies. RED Mortgage Capital, LLC is a leading Fannie Mae DUS® and MAP- and Lean-approved FHA lender with a mortgage servicing portfolio of more than $17.8 billion. RED Capital Markets, LLC (MEMBER FINRA/SIPC) is a leader in the distribution of Fannie Mae and Ginnie Mae Project MBS and provides structuring, underwriting, placement and advisory services for tax-exempt and taxable housing and health care bonds. RED Capital Partners, LLC provides proprietary debt and equity solutions and asset management in a range of forms including subordinated gap and bridge loans. RED CAPITAL GROUP, LLC, a subsidiary of ORIX USA Corporation, is headquartered in Dallas, Texas, with a large regional office in Columbus, Ohio and nine additional offices nationwide.
About ORIX USA Corporation
ORIX USA Corporation is a diversified financial company with approximately $6 billion of assets in sectors spanning commercial finance, venture finance, commercial real estate and public finance, as well as $25 billion of assets managed for others. Operating subsidiaries include Houlihan Lokey, RED Capital Group and Mariner Investment Group. Headquartered in Dallas, Texas, ORIX USA and its subsidiaries have more than 1,400 employees and offices in major cities including New York, Los Angeles, London and Tokyo.
ORIX USA is a wholly owned subsidiary of ORIX Corporation, a Tokyo-based, publicly owned international financial services company with operations in 35 countries worldwide. ORIX Corporation is listed on the Tokyo (8591) and New York Stock Exchanges (IX). For more information on ORIX USA, visit http://www.orix.com.
DUS® is a registered trademark of Fannie Mae.