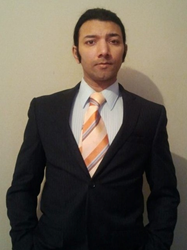 For me to take my expendable income, so to speak, which is not a ton and invest it (in therapy) is well worth it...I Dont think you can put a money value on this service.
Ann Arbor, MI (PRWEB) May 12, 2014
Extraordinary results in the world we live in, is more of science fiction rather than real Science. Until we focus ourselves on the reversal of symptoms Therapist Al R. Zia has been able to achieve. His clinical subjects affected with Parkinson's Disease in the NIH registered clinical research trial (click to see the NIH registry of the clinical trial) have decreased their symptoms by 31% in just 3 months with only 9 total hours of therapeutic induction. (Ethical Institutional review Board approval attached as a file herewith, who is the overseer of the research and the validity of its results)
Last but hardly the least, he has been able to reactivate the sense of smell of one of the patient/subject via the therapy which she lost 25 years ago (loss of sense of smell is one of the many symptoms that may manifest in Parkinson's disease) and bringing it back is just a profound evidence in the power of healing Therapist Zia holds (see video).
Nowadays we believe in pills and surgeries for cure. Along comes Therapist Zia and alter our belief system. He has cured this disease at a rate of 31% in his subjects in all symptoms associated with the Parkinson's Disease including reduction in tremors. With just using his hands as treatment for healing. Instead of, (let's face it) fear inducing, invasive and side effecting treatments such as deep brain simulation of the thalamus, pharmatherapeutics and other medical treatments and surgeries available in the medical market today.
I remember these ancient stories where these old men touch and heal people and then I look into NIH website and pin point a person like the ancient healer or pretty darn close in existence. It baffles me in a very good way.
Registered and logged researched data below is just a breath of fresh air and life without side effects for the patients suffering from disease and an eye opener for medical science. (video is an eye opener as well)
The First Batch of Clinical Research Study Results/data (These are result for the Batch as whole)
Overall average of before and after therapy results per session:
Before therapy-

Tremors average: 3.75
Sleep average: 6.74
General overall Feeling ave: 4
After therapy-
Tremors ave: 1.95 (48% reduction)
Sleep ave: 6.4 (5% reduction)
General overall Feeling ave: 4
-Three months daily progress:
Daily results average of All subjects (Real Results That Matter On Day to Day Basis):
Tremors reduction from 3.64 at the start to 2.78 final (a 24% reduction)
Sleep quality increase from 6.92 at the start to 5.87 final (a 15% increase in sleep quality)
General overall feeling from 5 at the start to 2.25 the final (a 55% better general feeling)
Overall, the data shows that the whole batch of subjects healed by 31% in just 3 months of the therapy with a total of 9 hours of therapeutic induction per subject.
Congratulations to the sufferers of the disease!
This all natural manual modulative treatment result is just a miracle which is scientifically documented and well justified for publication and treatment integrity.
Therapist Zia believes that the results can get better as the induction continues to build on its momentum. He is confident that he can take healing to a level close to negligible. Once the treatment situates at a constant rate may cure the disease completely or halt the progression at a considerable rate.
Therapist Zia share his success with Late Dr. John E. Upledger who is the developer of the CranioSacral Therapy and Upledger Institute International and former professor and researcher at Michigan State University in Lansing, Michigan and Dr, Zvi Karni former chairman of the department of Bio-Physics at Teknion University in Haifa, Israel.
Therapist Zia has used considerable amount of Dr. John and Dr. Zvi knowledge of CranioSacral Therapy in conjunction with his to achieve these results.
Therapist Zia is also a CranioSacral Therapist and has graduated via the Upledger Institute international.
He also believes that like any medical practice, the result of success much depends on the quality of practice of the health practitioner then just the modality of healing.
His clinic is located in Ann Arbor MI, 2 minutes from the University of Michigan Central Campus. His per session rate is $150-$200. His session can range from 60-90 minutes. And he is currently recruiting patients for his next batch of clinical trial, scheduled to start in June 2014.
We are believers, in extraordinary results, sometimes with the support of the NIH and Department of Health as well. Be it super nova radiation or healing via CranioSacral Integrative Therapy or the healing touch of Therapist Zia, as long as it is verifiable and in this case. You better believe it is.