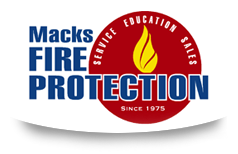 Kalamazoo, MI (PRWEB) May 07, 2014
A new, updated website designed by Blue Fire Media was launched in early May for Macks Fire Protection. While their previous website featured informative content, Macks Fire Protection's new website worked to update and organize the information so that customers could easily navigate and find what they were looking for.
Macks Fire Protection offers a wide range of fire protection products and services. Their new website makes locating the products they offer easier to find. From anywhere on their website, viewers can easily navigate back to the products home page and click on the graphic that corresponds with the product for additional information. The website also makes locating the services they offer easy to find and provides customers with a description and addresses the necessity of each service.
Macks Fire Protection prides itself in serving their customers the best way possible. Owner Rodney French stated, "The purpose of our business is to meet our customer's needs in such a way that they feel safe, confident, and secure, giving them freedom to pursue what makes them happy." For his business's new website, he wanted to ensure that their commitment to spectacular customer service stood out.
In addition to Macks Fire Protection's focus on spectacular customer service is their commitment to making sure their customers are educated on how to correctly operate their fire suppression systems. French said, "By putting the systems in place and training the individuals to run them, we can create success together." Macks Fire Protection offers different training measures to match their customers' needs. A critical aspect of their updated website includes downloadable Material Safety Data Sheets for customers, as well as fifteen YouTube videos that cover various training and relevant instructional information.
Since 1975, Macks Fire Protection has provided Southwest Michigan with unparalleled fire protection products and services. As a family-owned business, Macks Fire Protection works to not only provide reliable fire protection systems, but to build a long-lasting partnership with each customer. Every system is backed with expert fire training to help ensure the customer's staff is protected and prepared for a fire at their facility. Visit http://www.macksfire.com to learn how Macks Fire Protection can help protect you.
Blue Fire Media is a Kalamazoo based web design company that specializes in developing profitable website solutions, while simultaneously simplifying the entire process. Additional services include SEO, Internet marketing and social media marketing. To learn more about Blue Fire Media provides, visit their website at http://www.bluefiremediagroup.com.