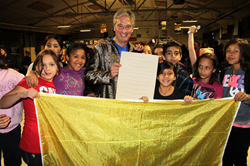 (PRWEB) May 13, 2014
No Tricks to Stop Bullying: Magician Shows the Way
Magician Steffan Soule performs his magic in Utah schools during 2 weeks of May in Salt Lake, Wasatch and Weber Counties to help students stop bullying. His magic show focuses on the power of the Golden Rule to illustrate methods to make bullying disappear.
Please click on the attachment for more information and dates.
For More Information,
Contact: Kelsie Marshall, Amy O'Donnell or Bonnie Phillips
801-433-6275
Bullying has reached an epidemic proportion in our schools, and it is vitally important that students learn to address it and see that they are not alone in their experience. Since 2003, the Golden Rule Project has instituted a number of programs that share the common principle of the Golden Rule. To introduce the Golden Rule as a theme for educators, with support from the Utah Division of Arts and Museums and the Utah Board of Education, the Golden Rule Project produces materials for schools such as broadsides, billboards, posters, coloring cards and bookmarks.
In 2013, the GRP commissioned professional magician, Steffan Soule, to create a performance that explains and conveys the Golden Rule to teenagers, the toughest audience in the world. From the first presentation, Soule's show was a hit. Now, after more than 30 performances in Utah, "Attention, Magic and the Golden Rule" not only engages a theater full of teens, but it's been refined to work for younger audiences as well as adults. Using magical effects that serve as allegories for ways to understand the sources of bullying, Soule offers strategies for mitigating it and for building a community of support to make this damaging behavior disappear.
Today, with the help of the Arts in Education Program at the Utah Arts Council, R. Harold Burton Foundation, George Eccles Foundation and many individuals, the Golden Rule Project provides this special presentation and other materials at no charge to schools and community groups.
The program will again benefit thousands of students in May, as "Attention, Magic and the Golden Rule" will be performing for 2 weeks in Salt Lake, Wasatch and Weber counties. This time, the DARE program will be welcoming the presentation because it fits in with the DARE mission, to teach students how to make choices and decisions that will lead them to live safe and healthy lives.
To connect with the school assembly coordinators within the school system, The Golden Rule Project will attend the PTA conference at BYU on May 15th and 16th so that schools in more counties throughout Utah can have Steffan Soule's presentation and find ways of implementing the Golden Rule to reduce bullying.
The performance schedule is:
Tuesday, May 13th, 2014
1:30 PM – Channing Hall
13515 S 150 E, Draper, UT 84020
Wednesday, May 14th
2 PM - 5PM – Utah PTA Conference Set-up
BYU, Provo, UT
Terrace Court in the Wilkinson Student Center
Thursday, May 15th
7:30 AM – 5PM – Utah PTA Conference Set-up
BYU, Provo, UT
Terrace Court in the Wilkinson Student Center
Friday, May 16th
8:00 AM – 3PM – Utah PTA Conference Set-up
BYU, Provo, UT
Terrace Court in the Wilkinson Student Center
Monday, May 19th
10:00 AM – Old Mill Elementary
1600 East 980 South Heber City, UT 84032
1:15 PM – Timpanogos Intermediate
200 East 800 South Heber City, UT 84032
Tuesday, May 20th
10:00 AM –Alianza Academy I
2440 S 1070 W. West Valley City, UT 84119**Have not responded to confirmation**
1:30 PM – Alianza Academy II
2530 South 500 East South Salt Lake City, UT 84106
Wednesday, May 21st
10:00 AM – Midway Elementary
225 South 100 East Midway, UT 84049
1:30 PM – Heber Valley Elementary
730 South 600 West Heber City, UT 84032
Thursday, May 22nd
10:00 AM – J.R. Smith Elementary
235 East 500 North Heber City, UT 84032
1:15 PM – Rocky Mtn. Middle School
800 W. School House Way Heber City, UT 84032
Friday, May 23rd
1:30 PM – American Preparatory Academy
1195 S. Elk Ridge Dr. Salem, Utah 84653