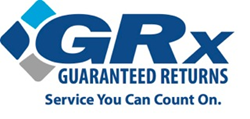 Get the most out of your pharmaceutical returns when you work with GRx.
Holbrook, NY (PRWEB) May 29, 2014
Under Contract No. MMS14016, MMCAP members will continue to receive the same reliable and efficient pharmaceutical returns service they have received from Guaranteed Returns® for over the last 15 years.
MMCAP members will enjoy reduced service rates from Guaranteed Returns® in addition to new program value-added services such as Instant Credit and an Accelerated Indate program.
"Take advantage of our program only if you want to get the most out of your pharmaceutical returns." says Robert Schaltenbrand, V.P. Industry and Trade Relations and MMCAP National Account Manager for Guaranteed Returns®.
About Guaranteed Returns®
For over 25 years, Guaranteed Returns® has provided pharmaceutical return services to hospital, government, independent retail, chain-store, LTC, Mail-Order and clinic pharmacies. Local GRx on-site service representatives are highly valued by customers for their professionalism, trustworthiness and for "going above and beyond."
Business review consultations, inventory management assistance and unbeatable customer service are just a few of the attributes that customers say sets GRx apart.
Contact Guaranteed Returns® at 1-800-473-2138, on LinkedIn or at http://www.guaranteedreturns.com.