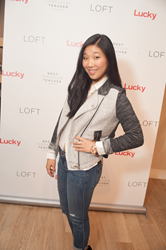 New York, NY (PRWEB) May 08, 2014
On February 13, Chicago teachers were invited to submit an application describing how they would use a $1,000 grant to improve their school classroom. LOFT and Lucky Magazine revealed the 5 finalists at an in-store cocktail party at its Michigan Avenue store. The 5 finalists included:

Hannah Kim of Lyman A. Budlong Elementary
Diana Locco of Eric Solorio High School
Lynn Santoyo of Gwendolyn Brooks College Preparatory
Jill Hovanes of Shields Middle School
Toni Minter of Washington Irving Elementary School
Beginning March 31 through April 6, LOFT hosted the contest on its Facebook page featuring images and videos of the 5 finalists describing how they would use the grant to improve their classroom. Fans were encouraged to vote for one lucky Chicago teacher to win a $1,000 grant for their classroom and $500 LOFT shopping spree. Hannah Kim of Budlong Elementary in Chicago, IL was selected as the winner.
Click to view Hannah's winning video here: http://bit.ly/1nljxbC
Click to view/download photos of the finalists and Hannah Kim: http://bit.ly/1s7fM7B
ABOUT LOFT
At LOFT, we believe the best relationships are BUILT ON TRUST. Well, that and an amazing wardrobe. We become a TRUSTED PERSONAL STYLIST by connecting with women on a GENUINE LEVEL – equal parts expert, confidante and friend who tells it like it is. We give her fashion advice, ideas and inspiration that make her style aspirations attainable. We believe in offering VERSATILE, ACCESSIBLE and AFFORDABLE fashion with undeniably FEMININE appeal, special and unexpected DETAILS, and a flattering FIT. As of February 1, 2014, LOFT operated 539 stores across the United States and Canada, as well as online at LOFT.com. LOFT is a division of ANN INC. (NYSE: ANN).
LOFT invites all teachers to sign up to receive 15% off every time they shop in a LOFT store. Sign up at loft.com to get exclusive teacher-only perks and more.