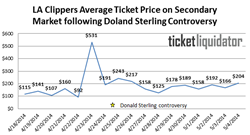 South Windsor, CT (PRWEB) May 06, 2014
With the NBA playoffs entering round two tonight, most teams saw the average price of a game ticket on the secondary market increase compared to round one, with a league-wide average of a 42% increase.
That increase was even greater for teams playing in large markets. The average Brooklyn Nets ticket saw a 102 % increase following their win over the Toronto Raptors. The two-time defending champion Miami Heat saw ticket prices nearly double, up 97% to $283.
But for the Los Angeles Clippers, the team at the center of the Donald Sterling controversy, ticket prices were actually down 2.6 percent, to an average of $189. This is a team playing in one of the largest markets in the country, with a long-suffering fan-base that has just witnessed its first playoff series win.
Despite the fact that NBA commissioner Adam Silver came down harshly on Sterling, banning him from the NBA for life and handing down a $2.5 million fine, the drop in the average price seems to indicate Los Angeles is feeling a bit ambivalent about supporting the team. As a comparison, tickets for the Los Angeles Kings increased 67%, from $123 to $204 in the second round.
As the above chart makes clear, the average price for Clippers tickets fell precipitously from a high of $531 on April 23 to a low of $125 on April 28, three days after TMZ released an audio recording of Sterling allegedly making racists remarks. At an average price of $204, Clipper ticket prices on the secondary market have not come anywhere close to the peak of $531 on April 23, two days after the Clippers demolished the Golden State Warriors 138 – 98.
The only other team to see a drop in prices were the Indiana Pacers, but that can likely be explained by the fact that the top-seeded Pacers needed seven games to beat the 37-45 Atlanta Hawks, and lost 13 of their final 23 games of the season. Playing in a smaller market, the Pacers also saw the lowest average ticket price on the secondary market in the first round at an average of $70, $30 cheaper than the next-lowest average price of $101 for the San Antonio Spurs.
League and team names are the property of their respective owners. Ticket Liquidator does not claim any right or ownership to any of the team or league trademarks contained in this press release. They are strictly used for descriptive purposes and do not imply an endorsement or partnership.
Ticket Liquidator is an online marketplace for tickets to live entertainment events. Since 2003, Ticket Liquidator has provided a selection of event seating inventory which now exceeds $1Billion. With 7-day Customer Service, PCI and SSL security certifications and a Worry-Free 125% Guarantee and Safety Net Program, Ticket Liquidator ensures that all purchases are made with confidence.