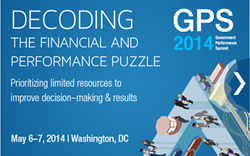 Robbins Gioia announces its sponsorship of the Government Performance Summit 2014—now in its 14th year.
Alexandria, Va. (PRWEB) May 06, 2014
Robbins Gioia (RG) announces its Platinum sponsorship of the Government Performance Summit 2014 (governmentperformance.org)—now in its 14th year. With the Performance Institute (performanceinstitute.org) and the Association of Government Accountants (agacgfm.org) working together for the first time to present this annual, two-day summit, this week's event promises an exceptional exchange as more than 300 professionals from Commerce, Interior, Energy, ICE, Naval Intelligence, and more gather in Washington D.C.
There will be more than 15 sessions and panels to discuss finance, shared services, cybersecurity, enterprise architecture, requirements management, and major program performance within federal, state, and commercial organizations. The 2014 attendees will hear about the latest mandates, best practices, approaches, and experience in "Decoding the Financial and Performance Puzzle"—the theme of this year's event.
"GPS2014 promises to be a great exchange of practical strategies and hands-on learning," explains Diane Denholm, Policy Director, The Performance Institute. "And with the recent announcement of the four shared service financial management providers, this event couldn't be more timely. It is the first opportunity since the announcement for industry and government to hear from Elizabeth Angerman, Director, Office of Financial Innovation and Transformation, Department of the Treasury and her colleagues about the future of shared services."
GPS2014 explores many of the same issues RG clients are facing, explains Brad King, CEO of Robbins Gioia. "We see federal and state agencies, as well as our commercial clients, struggling to reap returns from their investments in share services. Attendees will interact with executives that are on the leading edge of linking budgets to performance outcomes, the implementation of performance oriented enterprise architecture, and data-driven decision making," he explains. "RG's unified approach encompasses a customizable suite of services and methods that provide a roadmap towards success for our clients—it's a natural fit."
About Robbins Gioia
For more than 30 years, Robbins Gioia has helped private and public organizations successfully achieve their toughest, riskiest, and most critical initiatives. Our clients are successful because at RG, we use the highest criteria to build and manage solutions tailored to each unique organization. Visit us online at http://www.robbinsgioia.com.