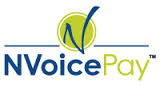 NVoicePay Payment Optimization takes the burden off customers to deliver on the true promise of 100% electronic payments" — Karla Friede, CEO of NVoicePay
Dallas, Texas (PRWEB) May 06, 2014
Today at Fusion 2014, NVoicePay Inc., revealed Payment Optimization, built-in capability in NVoicePay's simple B2B ePayment solution that ensures enterprises can pay 100 percent of suppliers electronically with payment methods that deliver optimum bottom-line benefit.
NVoicePay Payment Optimization combines cloud-based software with best-in-class supplier enablement services to deliver next generation payment processing. Unlike most bank offerings, NVoicePay continuously enables suppliers for electronic payment and maintains that information as it changes over time. The solution automatically processes the optimal method of payment for each transaction by matching the supplier's preferred and accepted payment methods -- ACH, integrated AP Cards, traditional credit cards, or electronic print checks, with the payment method that delivers the greatest benefit to the customer, including lowest transaction cost and greatest card rebate when applicable.
"Many B2B ePayment solutions fall short due to limitations in existing technology and the inability of financial institutions to deliver the continuous and comprehensive supplier enablement services that are absolutely critical to enable electronic payments. This often leaves customers taking on more work than necessary and leaving them with a low percent of their payments made electronically," said Karla Friede, CEO of NVoicePay. "NVoicePay Payment Optimization takes the burden off customers to deliver on the true promise of 100 percent electronic payments, enabling them to eliminate paper checks, streamline accounts payables, reduce costs, and deliver substantial value to the bottom line."
NVoicePay solutions feature these capabilities:

One simple workflow that encompasses all payment types and works with any bank and all ERP systems.
The flexibility to choose any payment method —ACH, integrated AP Cards, traditional credit cards, and electronic print checks.
Continuous supplier enablement and comprehensive information management services.
PCI Compliance, the highest security standard in the payment industry.
NVoicePay leverages these capabilities to deliver Payment Optimization; ensuring 100 percent of suppliers are paid electronically with the method that delivers the greatest return to the customer. NVoicePay Payment Optimization is available now as part of the NVoicePay ePayments solution.
Webinar: ePayments optimized
Join NVoicePay on May 20, 2014 at 11:00 am PST to for a webinar on how to evaluate ePayment solution providers by asking the right questions, learning the differences between bank-based and technology solutions, and avoiding common pitfalls. Register for free at http://bit.ly/1lLeE9A.
About NVoicePay
NVoicePay is the leading provider of simple ePayment solutions for the enterprise. Organizations across multiple industries trust NVoicePay to streamline invoice payments, reduce AP costs, and generate new revenue thru integrated AP card rebates. Only NVoicePay offers a simple, secure cloud-based workflow that works with every accounting system and all banking partners, and best-in-class supplier services to assure success. Founded in 2009, NVoicePay has thousands of customers paying tens of thousands of suppliers through the company's payment network each day. For more information, visit http://www.nvoicepay.com.