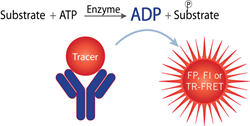 Madison, WI (PRWEB) May 07, 2014
Join us for a webinar on Wednesday, May 14th at 11:00 AM CDT: Streamlining ATPase and Kinase Assay Development using Direct ADP Detection
Biochemical HTS assays are a critical component of drug discovery programs focused on kinases and other types of ATP-dependent enzymes, such as chaperonins and helicases. Assembling, evaluating and optimizing high quality enzymes and assay reagents can be a costly and time consuming undertaking. The shift toward screening focused libraries against multiple targets in parallel can add to the assay development burden substantially.
In this webinar you will learn:

How Transcreener assays work: homogenous immunodetection of nucleotides with far red fluorescent readouts.
Why highly selective immunodetection of ADP is advantageous over more complex methods that rely on coupling enzymes to convert ADP to a detectable product.
How monitoring ADP production in real time allows optimization of multiple assay parameters using a single reaction.
How to obtain accurate IC50 values directly from raw Transcreener data, and eliminate the need for standard curves.
Participants should come away confident that they can apply a rapid, user friendly solution to screen or profile kinases and other types of ATP dependent enzymes with minimal pilot experimentation and reagent usage.
After registering, you will receive a confirmation email containing information about joining the webinar.
About BellBrook Labs. BellBrook Labs is dedicated to accelerating drug discovery and biological research by providing innovative high throughput screening solutions for enzymes and phenotypic assays. The company's Transcreener® HTS enzyme assays, used by all of the major pharmaceutical companies, make it easy to screen thousands of different enzymes, including validated targets like kinases, as well as emerging targets like ATPases, GTPases, methyltransferases, and glycosyltransferases. The iuvo™ Microconduit Array technology and assay screening service is a line of unique microscale devices for miniaturization and automation of advanced cell models that are more representative of human physiology.