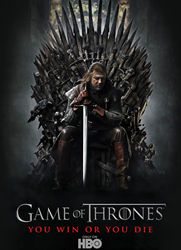 MPC delivered over 100 shots for the show, and about 80% of those were environment or DMP shots.
North Vancouver (PRWEB) June 12, 2014
Think Tank Training Centre, a computer animation school in Vancouver, BC, is proud to announce a huge turnout for their latest matte painting workshops put on by digital matte painter Melaina Mace. Mace is a Digital Matte Painter at one of Vancouver 's largest Visual Effects Studios, Motion Picture Company (MPC ) She recently wrapped up work on the most recent season of HBO's huge hit show, Game of Thrones. Her other notable projects include Godzilla, Iron Man 2, Thor, and Guardians of the Galaxy. Think Tank recently interviewed Mace about her experience with Game of Thrones, working in Vancouver and the evolution of the VFX industry. To read the full interview, click here.
"The unique thing about Game of Thrones is that the vast scope of the show, particularly the environments, really raises the bar on VFX for television," Mace said in the interview. "MPC delivered over 100 shots for the show, and about 80% of those were environment or DMP shots. I believe that Season Four has been the most VFX heavy season to date – the scope of that work is certainly becoming much more comparable to film work and I think that will continue as the show goes on."
When asked about the evolution of matte painting over the years, she replied, "What I am seeing more and more, particularly in film environments, is a shift away from the 2D aspects of matte painting, which are quite limited for modern-day film. There is a limit to what you can do with 2.5D projected images, and I think that the epic scale and freedom of what you can do with a 3D camera move today has pushed environment work in film, and even television, to the point where fully modeled, lit and rendered environments are becoming a necessity."
Mace has been teaching workshops at Think Tank for several semesters and is in now in line to Mentor in Matte Painting.
About Think Tank Training Centre:
Founded in 2005 and located in beautiful Vancouver, BC, Think Tank Training Centre specializes in the latest software, techniques, and technologies in order to cater to the needs of the film, television and video game industries both locally and worldwide. Computer animation training has become a popular choice with CG schools around the world turning out hundreds of grads per year. In order to be successful as an animation school graduate, students must be exceptional. Think Tank is dedicated to providing cutting-edge relevant, current, and effective training that will ensure a realistic opportunity for industry employment.