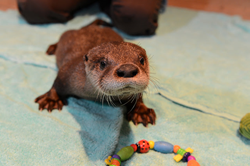 North American river otters are extremely social creatures that crave affection and often travel in large family groups.
New Orleans, LA (PRWEB) May 07, 2014
Spring is in the air and Audubon Zoo is crawling with adorable baby animals. In mid-March, two female North American river otter pups arrived at the Louisiana Swamp Exhibit. The as-yet-unnamed bundles of fur were about two weeks old when they were rescued from a construction site in Port Sulphur in Plaquemines Parish.
"Their eyes and ears were still closed when they came to the Zoo, and because they're such tiny creatures they have been treated with the utmost care," said Audubon Zookeeper Dominique Fleitas. "North American river otters are extremely social creatures that crave affection and often travel in large family groups."
In the Asian Domain, a pair of babirusa piglets were born January 31, 2014. Clark, a male, and Addison, a female, who recently went on exhibit, were the first new mammals for Audubon in 2014.
The newborns' father is Wrigley and their mom is Betty. "Wrigley was born at Audubon in January of 2005 and Betty was born in St. Louis in 2009," said Audubon Zoo Curator of Large Mammals Joe Forys. "Wrigley is named after iconic Wrigley Field in Chicago. Clark and Addison are named for the famous cross streets near the baseball park, which is celebrating its 100th anniversary this year," said Midwestern native and avid Cubs fan Forys.
The piglets also live with their big sister Fig who was born in 2013 and Audubon's Asian small-clawed otters. Males usually weigh about 200 pounds and females range between 120 and 150 pounds. Piglets arrive after about five and a half months of gestation and weigh about a pound at birth.
Visitors can see these animal babies in action daily at Audubon Zoo, which is open seven days a week in spring and summer.
Audubon Zoo is located at 6500 Magazine Street in New Orleans. Admission is $17.50 for adults, $12 for children 2-12, and $13 for seniors 65+. Audubon Nature Institute members are admitted free of charge.
Audubon Nature Institute is a 501(c)3 not for profit that operates a family of museums and parks dedicated to nature. These New Orleans facilities include: Audubon Park, Audubon Zoo, Woldenberg Riverfront Park, Audubon Aquarium of the Americas, Freeport-McMoran Audubon Species Survival Center, Entergy IMAX® Theatre, Audubon Center for Research of Endangered Species, Audubon Louisiana Nature Center, Audubon Butterfly Garden and Insectarium and Audubon Nature Institute Foundation. Ron Forman is President and CEO of Audubon Nature Institute.
Visit http://www.auduboninstitute.org/visit/zoo for more information.