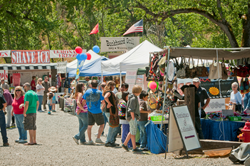 What's great about the Peddler's Fair is that there is something for everyone in the family. If you like it, they have it. The best part, lots of fair food!
Coarsegold, CA (PRWEB) May 08, 2014
The annual Peddler's Fair is a bargain hunter's dream as hundreds of vendors take over the Coarsegold Historical Village.
The fair features a wide range of products such as arts and crafts, interior décor, pet products, various collectibles, wood carvers, antiques and more.
Christi Long of the Yosemite Sierra Visitors Bureau had this to say about the Annual Peddler's Fair; "What's great about the Peddler's Fair is that there is something for everyone in the family. I love taking the kids and wandering through all of the vendors. My son is really into medieval stuff and bought a Braveheart replica sword, and I found two old leather bound books to add to my collection. If you like it they have it, and the best part, lots of fair food!"
In addition to the shopping, there will be numerous vendors selling a wide array of food and live music. Steve Lopez and his boys' basketball team will be grilling corn and serving mouthwatering tri-tip sandwiches to raise funds for the YYBA, Yosemite Youth Basketball Association. This event helps provide funds for summer tournaments and scholarships for graduating seniors. Parents, players, and coaches work side by side during this Memorial Day weekend for the betterment of the kids. This is just one of the many stories behind the great people you will encounter at the 2014 Annual Peddler's Fair.
Admission to the Peddler's Fair is free.
Not only are there acres of vendors from throughout the country, the village is also home to a number of unique shops and restaurants. Visitors can also learn about the regions tribal history, or connection with the gold rush of 1949. They can even try their hand at gold panning.
The Peddler's Fair starts Friday, May 23, and runs through Monday, May 26. More information or vendor packets can be found at http://www.CoarsegoldHistoricVillage.com.
About the Community
Coarsegold is a small community about 25 minutes south of the southern entrance to Yosemite National Park. Part of Madera County, which is known as California's Gateway to Yosemite, Coarsegold was once a boom town thanks to gold found nearby. Now the community is home to the largest tribal casino in central California, a popular bed and breakfast as well as a convenient motel. Annual events include the Peddler's Fair each Memorial Day weekend and Labor Day weekend, and the Coarsegold Tarantula Festival.
More information can be found at http://www.YosemiteThisYear.com.