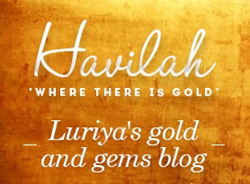 "We are especially excited about the themed content the blog will be featuring," says Kandinov. "Many holidays will be covered throughout the year and we will explore how the jewelry industry is impacted by cultural events and seasonal changes."
New York, New York (PRWEB) May 06, 2014
Luriya.com, a New York company dealing in gold, diamonds and jewelry since 1995, announced today the launch of their gold and gems blog, Havilah, on their newly restyled website, http://www.luriya.com. The name Havilah refers to the setting of the Garden of Eden described in Genesis: "the whole land of Havilah, where there is gold, and the gold of that land is good."
Havilah offers advice on buying and selling gold and fine jewelry, and delivers valuable news, trends and information relevant to fine jewelry professionals, consumers and anyone interested in knowing the value of their gold and jewels. Emphasis will be on the bustling jewelry trade, and arts and culture in New York City.
"Our business is based in one of the most important cities in the world for jewelry and we're taking advantage of that," says Mark Kandinov, COO and Marketing Director of Luriya.com. "So much happens in Manhattan with respect to buying and selling precious metals and gemstones, but there are also fascinating museum exhibits and important jewelry auctions, fashions and celebrity events. Havilah incorporates all of that. The blog will be an important resource for jewelry professionals and jewelry lovers looking to stay on top of what's happening in the world of gold and gems in New York City and beyond."
Havilah's inaugural posts reviewed the Jewels by JAR retrospective at the Met, discussed the rising interest in gold coin collection as the price of gold drops, and featured a story on the $6.4 million record-setting Burmese ruby necklace recently sold by Christie's. Upcoming posts will explore jewelry trends of 2014 and the hottest jewelry shops in New York City.
"We are especially excited about the themed content the blog will be featuring," says Kandinov. "Many holidays will be covered throughout the year and we will explore how the jewelry industry is impacted by cultural events and seasonal changes."
The launch of Havilah coincides with a complete redesign of the Luriya.com website. The new site has a clean, modern look with expanded menu options that will enhance functionality and the user experience. The site is also fully optimized for mobile phones and tablets to address the rising usage of these devices. the Visitors may now enjoy an integrated search function that allows quick and easy access to targeted information, as well as a Live Chat service that provides real-time help with questions about buying or selling diamonds, fine jewelry or gold. The new website also now provides a step-by-step explanation of Luriya's jewelry-buying process and includes a section that addresses frequently asked questions.
"We want to be as transparent as possible with customers," says Fima Kandinov, CEO and Head Gemologist. "We understand that placing your valuables in the hands of another requires great trust. The redesigned website better reflects Luriya's openness, our professionalism, and our mission to provide customers with the most satisfying jewelry-selling or buying experience possible."
Visitors are invited to explore the new website and subscribe to Havilah, the gold and gems blog, at http://www.luriya.com and blog.luriya.com.
About Luriya.com
Luriya.com buys, sells and trades precious metals and gems of all kinds, from gold coins to loose diamonds and luxury watches. Headquartered on 47th Street in the heart of Manhattan's Diamond District, Luriya has been dealing in precious metals, diamonds and fine jewelry for the past 20 years. Their mission is to provide customers seeking to buy or sell gold, diamonds or fine jewelry with the best prices and customer service possible. For more details visit: http://www.luriya.com or contact customer service at 212-256-0025/info(at)luriya(dot)com.