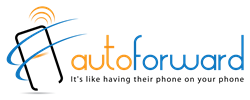 Amazing! Auto Forward recovered text messages that were deleted months ago!
Coram, NY (PRWEB) May 07, 2014
New York based company Auto Forward has hit the headlines recently by developing the cutting edge technology that makes it possible for cell phone users to recover all their deleted and old text messages. Apart from messages, this highly reliable cell phone tracking technology also provides remote access to all phone calls, Twitter, Facebook, GPS, and much more. Auto Forward works as a Master Mobile App and users can use their own tablet or mobile phone to monitor their target phones in terms of all actions that are supported. The Auto Forward software is extremely user friendly and no computer is required for its installation.
The launch of Auto Forward is expected to make life easier for the employers and parents. Most of the modern day parents are extremely worried about the cell phone usage pattern of their children. Similarly, business owners often look for a technology capable of helping them control employee behavior that leads to idle time at work and loss of business secrets. Auto Forward can be the ultimate solution for both these cases with unbeatable features such as SMS recovery, call recording, GPS tracking, call log monitoring, browsing history monitoring, email monitoring, and much more.
After the installation of the app, users are required to enter the cell phone number that they want to monitor. Once installed, the app efficiently and accurately extracts all text messages, GPS tracking, recorded calls, etc. and uploads them to its server after their recovery from the target device. As a result, users have remote access to all recovered data from their mobile devices or computer. At present, Auto Forward is supported by all versions of iOS, Android, and Blackberry. It is also compatible with all major mobile service providers around the world.
In spite of its brief tenure in the market, Auto Forward has already started receiving rave reviews from delighted customers. One of the earliest users of Auto Forward Edward G. strongly recommends this technology saying, "I've never seen anything like it! The darn thing sent everything right to my cell phone. I never had to touch a computer and I was able to spy on the phone without having to get it! Fantastic program!"
Auto Forward can be purchased for a one-time fee of $69.99 only without any monthly or additional charges. Most importantly, there is no time limit for the Auto Forward users. To start using this unique remote monitoring technology for cell phones, please visit http://www.auto-forward.com/buy_now.html.
About Auto Forward: Auto Forward is a recently developed technology that allows users to remotely monitor the usage pattern of target cell phones from their cell phone, computer, or tablet. Auto Forward can be used on the go because it functions as an application. Users of this technology can access lost and old messages, phone calls, GPS, Twitter, Facebook, and much more.