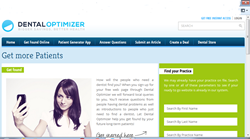 "We provide a format for dentists to submit relevant information that's going to attract the right traffic." -Sam Dyer, Healthy Grid
Portland, OR (PRWEB) May 07, 2014
Healthy Grid announced additional web marketing benefits available to dentists who participate in the Dental Optimizer. As search engine optimization (SEO) becomes a more desirable tool for dentists, Healthy Grid provides them a network to achieve it by providing information and engaging with consumers.
The Dental Optimizer is a website that connects people who need dentists with the finest dentists in their area. Consumers can browse the dental directory, ask questions, and read articles written by dentists about oral health. Dentists can customize their profile on the site, answer questions, post articles, and offer their services to people who need them. The Dental Optimizer contains a network that enables dentists to enhance their web presence every time they engage and share information.
Sam Dyer of Healthy Grid acknowledges that search engine optimization (SEO) is a complex topic. "Some of the brightest people in this business, when we say SEO, their eyes just glaze over," he admitted. "We know that dentists want to be serving patients and their staff doesn't have time to learn how to create content. This is a way for them reach new patients without having to learn a whole other skill set."
Healthy Grid suggests that dentists fill out their profiles with their specialties and location in mind. Since the dentists' profiles are fully customizable they have the flexibility to emphasize the details that will attract the most relevant web attention. According to Healthy Grid most searches for dentists include a city name so they suggest that dentists include their city in their profile name. Healthy Grid also suggests that dentists include links to their websites and social media pages. Dyer explains, "each of these links demonstrates the type of relevance that search engines reward."
The Dental Optimizer has other ways to build relevance for dentists' profiles. When dentists take the time to answer questions in the Ask-a-Dentist application each of those occurrences contains a link that leads to their profile and exposes the dentist to the audience. Similarly, when dentists post articles, those occurrences are also embedded with links to their profile.
Dyer explains that this can be easier than it may sound to the tech-weary. "Basically, if you're a dentist with a profile and you answer a question about a topic, future inquiries about that topic will lead back to your profile. If you post an article in our online library, your profile will be linked to that topic. You're not just serving the curious, you're also establishing yourself and your practice as experts."
Dyer elaborates about the importance of relevance. "Ranking was so important for so long that a lot of qualified, well-meaning sites are trying to get noticed strictly by volume of content," he says. "That's not going to get the results that professional practices need. We provide a format for dentists to submit relevant information that's going to attract the right traffic."
More detail is available at the Dental Optimizer website where those in need can find answers and dentists looking to expand can get started on their profile.