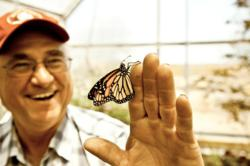 Home Grown Cellars exists to help educate the general public about San Joaquin agriculture and life on the farm.
Madera, CA (PRWEB) May 09, 2014
Home Grown Cellars is a family-owned business in Madera, California. Owned by Alex and Jackie Lehman, the farm specializes in pomegranate products including the wildly popular pomegranate honey. Along with the pomegranate farm, it is home to an amazing 3,000 square foot Butterfly Sanctuary. Home Grown Cellars announces the Butterfly Sanctuary will open Saturday, May 10th. Hundreds of butterflies from species including Monarchs, Painted Ladies, Morning Cloaks, and Red Admirals can be seen. The butterfly Sanctuary will be open Friday's 12:30pm-3:30pm, Saturday's 10:00am-3:30pm, and Sunday's 12:30pm-3:30pm.
The Home Grown Cellars farm cultivates, grows, processes, and ships pomegranates and pomegranate products. All of their products originate on their family farm. You can purchase products from pomegranate soap, pomegranate oil, pomegranate honey, nuts, jellies and more from their quaint country store. The Country Store is only open on Saturday's 9:30am to 3:00pm.
Unlike most farms, Home Grown Cellars offers tours of their property. The trolley takes guests throughout the orchard, showcasing the pomegranate trees while they learn the history of the farm and the region and get to see how the pomegranate goes from fruit to juice.
"Home Grown Cellars exists to help educate the general public about San Joaquin Agriculture and life on the farm. We promote Local Farm Direct Produce sales and wholesome country welcome," said Lehman.
Location: 13702 Road 20, Madera, CA 93637 (just south of Avenue 14)
Call 559-664-8599 for more information.
###