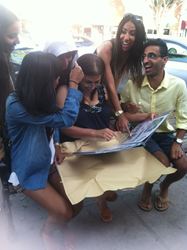 I remember being cared for in the best way - a lot of hugs and kisses. There was always a lot of warmth.
Los Angeles, CA (PRWEB) May 06, 2014
Katie Hosseinzadeh was brought to tears when 25 people converged to give her a surprise gift of letters of appreciation for Mother's Day. Ms. Hosseinzadeh, a mother of four, started a daycare business where she cared for over 100 children, and last year, cared for her terminally ill husband with stage four liver cancer. This Mother's Day, her children and her daycare students wanted to give back to her with letters of appreciation and pictures of their lives in a scrapbook.
Ms. Hosseinzadeh immigrated to the United States with hopes of building a better life. A native of Iran, she came to the United States in the 1980s for post-graduate study in psychology. She married Amir Hosseinzadeh and had four children: Sheiva, Sheila, Sheida, Shayan. With twins Sheila and Sheiva still in diapers, she started a daycare business, which she has operated for 20 years, and has cared for over 100 children.
"I remember being cared for in the best way - a lot of hugs and kisses. There was always a lot of warmth," said Mia Vancil, one of the children Ms. Hosseinzadeh cared for as a young child. Said Sheiva Hosseinzadeh, her daughter, "My mother has given up everything to raise her family. She loves it when we're all together, even if it's just to have dinner or watch a movie."
When Ms. Hosseinzadeh's husband was diagnosed with terminal liver cancer in 2012, doctors informed her that he needed around the clock care. For the last year of his life, she spent her time by her husband's side, nursing him throughout his journey.
This year, Ms. Hosseinzadeh's children wanted to celebrate their mother and the impact she has had on her community with a unique scrapbook. Through a program called "Giftovus In Action", they sought to find former daycare students via social networks and help from artists to make the scrapbook a celebration of motherhood.
"I read about Katie through Facebook and really wanted to help. I was really close to my mom and helping make this scrapbook made me feel like I was helping someone else's mom get closer to her kids," said Anna Schaffernoth, one of twelve people who contributed support for the scrapbook.
In the scrapbook, Ms. Hosseinzadeh received personal letters of appreciation from her children and her daycare children. The scrapbook included pictures of the children as toddlers up through adulthood.
"It was incredible how moved Katie was. We felt lucky to be a part of making someone's Mother's Day special," said Jessica Jessup, Co-founder of Giftovus.
About Giftovus In Action
Giftovus In Action seeks to celebrate outstanding individuals. Free of charge, the Giftovus In Action team, together with crowd-sourced support, makes memorable and meaningful moments happen for individuals, their friends and family. To suggest someone who would be a great candidate or if you want to be a Gift Hero, please contact us on Twitter or Facebook.
About Giftovus
Giftovus, Inc is a social platform for gift givers. Created by Jessica Jessup and her husband Brian, Giftovus allows friends and family to connect and brainstorm gift ideas while validating them against the social circle of the receiver, all without the receiver ever knowing. The result is more accurate gifts, money and time saved and a stronger emotional connection among the givers and receivers. To learn more, visit giftovus.com.