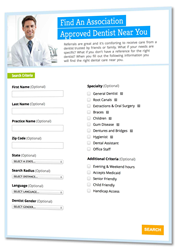 "...patients, insurance companies, and dentists benefit from educated patients and preventative care."-Andrew Clapp, Healthy Grid
Portland, OR (PRWEB) May 08, 2014
Healthy Grid has added several applications to premium editions of their popular Dental Optimizer. Each of these new programs will help people improve their dental health and help dentists improve their online presence.
The Dental Optimizer is a website (operated by Healthy Grid) that connects people who need dentists with the finest dentists in their area. Consumers can browse the dental directory, ask questions, and read articles written by dentists about oral health. Dentists can customize their profile on the site, answer questions, post articles, and offer their services to people who need them. The Dental Optimizer contains a network that enables dentists to enhance their web presence every time they engage and share information.
Since its launch, the Dental Optimizer has helped thousands of people find the right dentist as well as find answers to their dental questions. Its initial success led Healthy Grid to create "white label" versions of the site where insurance companies, employers, and dental groups could apply their own branding to serve a closed audience. Its application for these groups has led to satisfied patients who like the streamlined process and delighted providers who strive to simply serve their audience.
Healthy Grid's Andrew Clapp explains that some of the carriers and groups want to enhance the program even more. "The long and short of it is: patients, insurance companies, and dentists benefit from educated patients and preventative care. We came up with a series of new applications that can help get the patient in the chair before their problems become too expensive and too painful."
The cavity risk assessment asks patients questions about the state of their teeth, their diet, frequency of brushing and flossing, and other indicators of dental health. They're given a result, rating their risk of cavities, and then their results can be forwarded to the dentist of their choosing. According to Clapp, this is "a great motivator to get people to choose a dentist and make an appointment."
The gum disease risk assessment performs in much the same way but offers feedback about a patient's risk for gum disease. Clapp notes that, "pretty much everyone, even if they're ignoring it, is savvy about cavities. For a lot of folks, the pain is unmistakable. With gum disease, people are less aware and the signs can be more subtle. Unfortunately, the long-term risks can be as bad or worse than those from cavities. We have several articles on the Dental Optimizer about the link between gum disease and heart disease."
In addition to the risk assessments the Dental Optimizer can also be modified to offer patients the chance to fill out an Oral Health Profile. The Oral Health Profile asks more extensive questions about the patient's dental history and dental care habits. Even if the patient isn't having any problems, the information is still forwarded to the dentist of their choosing to coordinate with scheduled check-ups and priorities for those appointments. Clapp explains a few of the benefits of the profile, "Like the risk assessments, the profile helps prompt people to choose a dentist and get their teeth checked out. The information they provide is helpful to their dentist- they receive some background information before the first appointment."
The Dental Optimizer also offers a Drug Side-Effect Directory which can help patients avoid making mistakes while taking medication. Clapp explains, "Every dentist is going to do their due diligence when prescribing medications to a patient. In fact, the Oral Health Profile adds a little redundancy to that process by asking about allergies. In our experience, patients don't always remember everything they're told, especially at the end of a dental procedure, so we have this feature to help them avoid taking the wrong medications together. Over-the-counter drugs are included too."
The programs can be added individually or as a group. According to Clapp, they're not part of the free suite of programs with the basic Dental Optimizer but he stresses that they're designed to enhance the experience of patients, dentists, and carriers. More information can be found at http://www.healthygrid.com/business-solutions.