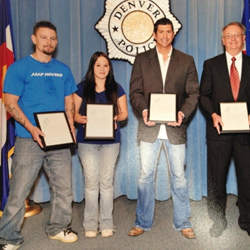 Denver, Colorado (PRWEB) May 27, 2014
Local mortgage lender, Jason M. Ruedy, also known as The Home Loan Arranger, attended "Live and Let Drive," on April 8, 2014 - a fundraising event presented by UMB Bank and hosted by a committee including Todd Maul, President, John Elway Dealerships, John and Paige Elway, and City of Denver Mayor Michael Hancock.
The event benefited locally based non-profit organizations including: National Jewish Health, the Clear the Air Foundation, and the Denver Post Community Foundation.
Mr. Ruedy continually strives to give back to his community by supporting and contributing his time and money to local, non-profit organizations and charities.
"When I purchased tickets to the Live and Let Drive event, I knew I was supporting some of the most important non-profit organizations in Denver. It was a fantastic occasion, and I sincerely hope their fundraising goals were not only met, but exceeded." - Jason M. Ruedy, The Home Loan Arranger
Mr. Ruedy began his interest in community work about 5 years ago when he was a witness to an altercation between a police officer and a suspect. The officer's life was in jeopardy, and Mr. Ruedy intercepted and ultimately saved the police officer's life. The suspect was apprehended. Due to Mr. Ruedy's courageous actions, he was awarded a Letter of Commendation by the Denver Police Department.
This led to Jason's commitment to support a variety of charitable organizations over the years such as YouthBiz. A non-profit organization based in Denver, Colorado, YouthBiz is dedicated to advancing social and economic prosperity for youth through the study and practice of entrepreneurship.
"Supporting non-profit organizations is what drives me. If I can help one person succeed, I will feel rewarded." - Jason M. Ruedy, The Home Loan Arranger
About The Home Loan Arranger:
Mr. Jason M. Ruedy, also known as The Home Loan Arranger, has 20+ year's experience in the mortgage business. His company was built around the crucial principles of hard work, discipline, and determination. The Home Loan Arranger evaluates client applications quickly and efficiently and structures loans with the best possible terms. Mr. Ruedy is successful in achieving loan closings for clients while meeting their highest expectations. Jason M. Ruedy is ranked #2 in the state of Colorado by Scotsman Guide, which is the top leading resource for mortgage originators.
For media inquiries, please contact Mr. Jason M. Ruedy, "The Home Loan Arranger":
The Home Loan Arranger
512 Cook St #100
Denver, CO USA
Phone: (303) 862-4742
Toll Free: (877) 938-7501
http://www.thehomeloanarranger.com/