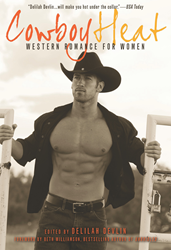 (PRWEB) May 07, 2014
Delilah Devlin's Cowboy Heat: Western Romance for Women was featured on USA Today's Happily Ever After romance blog. Devlin and several of the contributing authors to Cowboy Heat were interviewed on their own writings, their favorite story from the collection, and why cowboys are so universally and timelessly appealing. Devlin explains that "these men are hard working, no matter what they do for a living, and they take pride in their work. For some reason, wearing cowboy boots, tight jeans, and a big belt buckle gives cowboys a superpower, an attitude that attracts women like a magnet."
Layla Chase, another contributor, focuses on the softer side of these iconic heroes, commenting that "they have their priorities set on the safety of the animals under their care, and when necessary, that same attention is given to people they feel obligated to watch out for."
What People Are Saying about Cowboy Heat:
"Sure to satisfy any reader who craves the idea of that gruff, romantic hero, a man of few words but many moves."
—USA Today
"A new anthology of rugged romantics, rough riders, and rope wranglers."
—Publishers Weekly
Featuring fourteen stories packed with the smoldering infernos of classic and modern western romance, this sweet anthology will have readers hot under the collar and yearning for a swaggering cowboy to wrangle them. Hand picked by award winning, best selling author Delilah Devlin, Cowboy Heat satisfies all ranges of cowboy yearnings. In "Mrs. Morgan and the Marshal," a widow takes the next step in her secret relationship with the town's authority, and in "At the Mercy of the Cowboy," a woman applies for a live-in farmhand job that ends up being more than what she bargained for. This anthology is a sizzling testament to the heart-hitching-allure of rugged men who know how to treat a woman right in every aspect, including those south of the border.
Delilah Devlin has published over 60 erotic romance stories in multiple genres and lengths and edited a number of Cleis Press anthologies including the best selling Cowboy Lust, Smokin; Hot Firemen, and High Octane Heroes. Her novels include Down in Texas and Texas Men. She is published by Avon, Kensington, Atria/Strebor, Ellora's Cave, Samhain Publishing, Berkley, and Cleis Press and lives in Arkadelphia, AR.