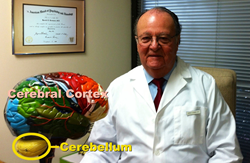 Researchers have mistakenly named each of the diverse symptoms comprising the cerebellar syndrome as a unique comorbid disorder rather than recognizing common origins.
Great Neck, New York (PRWEB) May 06, 2014
Two recent studies in Pediatrics have shown that ADHD is comorbid with language and anxiety disorders. And prior research has indicated that ADHD, dyslexia or LD and Autism overlap with each other as well as additional impairments involving mood, balance and coordination, etc. Since these combined disorders may affect more than 30% of the population and remain incompletely understood, further clarification is vital to millions of suffering individuals as well as those caring for and treating them.
Dr. Levinson's almost 5 decades of "highly original" research appears to have made significant advances in clarifying and even treating this overlapping or comorbid phenomena. He demonstrated that a previously hidden common neurophysiological denominator--cerebellar-vestibular (inner-ear) dysfunctioning-- silently played a key role in triggering scores of differently named symptoms and disorders. This diagnosable and treatable cerebellar impairment was shown by Levinson to directly cause some disorders (eg. dyslexia, ADHD, phobias, etc.) while indirectly complicating others (autism, cerebral palsy, mental retardation, etc.) having their own major processing impairments.
Beginning in the 1960's, Levinson recognized that both dyslexia and ADHD were characterized by only cerebellar determined balance and coordination signs and symptoms, having neurologically normal and even superior cerebral brains. Soon thereafter, he reported that over 90% of phobics seeking treatment also had a dysfunction within their inner-ear and cerebellum. And inner-ear mechanisms appeared best able to explain the presence and combination of fears triggered by motion (eg. moving elevators, escalators, trains, planes, etc.) as well as fears triggered by impaired balance, coordination and perception (eg. heights, sports, walking, driving, crowds, etc.).
Importantly, 75-85% of Levinson's patients with the above comorbid disorders responded favorably to inner-ear-improving meds and nutrients. Moreover, a wide-range of other symptoms and impairments (eg. dysgraphia, dyscalculia, dysphasia, dyspraxia, depression and mood stability, etc.) similarly improved. This suggested that a diverse group of differently named disorders which often overlapped were all caused by a common underlying cerebellar-vestibular dysfunction.
In other words, an overlapping combination of differing symptoms resulted when initially normal brain processors became secondarily "confused" upon receiving and transmitting dizzy" signals from dysfunctioning fine-tuners within the inner-ear and cerebellum. And each of the symptoms was mistakenly considered by clinicians and researchers to be a differently caused disorder. Thus they were called comorbid when overlapping with each other.
Similarly, Dr. Levinson recognized that a group of major brain processing disorders (eg. autism, schizophrenia, cerebral palsy, mental retardation, brain injury, etc.) were often complicated by, or comorbid with, relatively "minor" cerebellar dysfunctioning and it's previously described signal impairments (eg. ADHD, dyslexia or LD, etc.). Importantly, by therapeutically decreasing the cerebellar determined signal scrambling in those with major processing brain impairments it became possible to obtain overall improvements.
The above insights also led to increased accuracy in distinguishing ADHD, dyslexic or LD, anxiety, depressive... symptoms of a cerebellar origin vs. similar appearing disorders having psychological, pedagogical, social and other primary causes. Whereas the cerebellar disorders evidenced diagnostic balance and coordination neurological signs, the others did not.
By providing a clinically derived understanding of a group of diverse cerebellar determined disorders comorbid with each other as well as with a group of differing major processing brain impairments, Dr. Levinson was also able to explain why advanced neuroimaging brain studies found cerebellar involvement in all the above-mentioned impairments. Moreover, his many patients were significantly relieved upon realizing they often had only one treatable core problem with many diverse overlapping symptoms rather than a hopeless bunch of spreading and unrelated comorbid brain disorders.
About Harold Levinson, M.D.
Formerly Clinical Associate Professor of Psychiatry at New York University Medical Center, Dr. Harold Levinson is currently Director of the Levinson Medical Center for Learning Disabilities in Long Island, New York. He is a well-known neuropsychiatrist, clinical researcher and author. For more information, call 1(800)334-7323 or visit: http://dyslexiaonline.com.