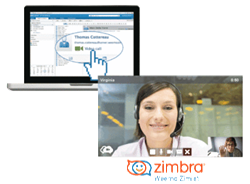 San Francisco, CA (PRWEB) May 14, 2014
Weemo, a company that offers a WebRTC video platform as a service with comprehensive APIs and SDKs for embedding video calling and video conferencing into any web or mobile application, today announced the general availability of the Weemo Zimlet for Zimbra. The new Weemo Zimlet provides free video calling for Zimbra Collaboration users.
Available today, the Weemo Zimlet connects Zimbra Collaboration servers to Weemo's video platform and enables users on the Zimbra instance to make video calls and share their screens and files. Zimbra users can make free video calls directly from an email or their contact list by simply touching the Weemo video icon. Zimbra systems administrators and service providers can request the new Weemo Zimlet for Zimbra Collaboration from Weemo's website.
Weemo will also offer a Premium edition of the new video service to follow this release. Weemo's Premium edition will offer mobile support for iOS and Android devices, and the ability to make video calls to people outside of the Zimbra Collaboration instance for a low monthly fee. Weemo's Premium edition will also provide the ability to schedule a video conference using the Zimbra calendar and invite up to 64 participants to a video conference.
"Zimbra is one of the largest enterprise collaboration platforms in the world and we are pleased to partner with Zimbra service providers and systems administrators to enable free video calling," said Thomas Cottereau, CEO of Weemo. "As the first global WebRTC platform, we take the complexity out of video calling. Service providers and systems administrators will find this solution much easier to deploy than previous vendor attempts to address Zimbra's customers. Weemo also takes on the responsibility for managing the infrastructure, taking capital spending and the risk associated with meeting service level agreements out of the equation for service providers," Cottereau went on to say.
Weemo's global video cloud platform abstracts the complexity associated with leveraging WebRTC and incorporates a number of features to improve performance and the user's experience. For example, Weemo auto-adjusts the resolution to the environment, improving voice and video quality across varying network quality. Weemo also maintains sessions in the event of short network loss to deliver reliable video calling and video conferencing.
About Weemo
Weemo offers a telecom-grade video platform as a service with comprehensive APIs and Mobile SDKs which makes embedding video calling and video conferencing into any web or mobile application simple. Unlike other WebRTC solutions, Weemo overcomes browser and mobile device challenges providing users a complete video calling and video conferencing solution. For more information, go to: http://www.weemo.com or follow the company @Weemo.