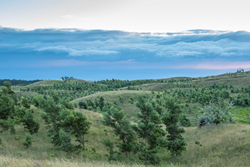 "We are seeing the return of the koa forest and along with it, the endangered birds that historically occupied these lands—it's remarkable how fast it is happening," said CEO Jeff Dunster.
Paauilo, Hawaii (PRWEB) May 06, 2014
Hawaiian Legacy Hardwoods (HLH) today announced the planting of its 250,000th native koa tree on the Hamakua Coast of Hawaii Island, well on the way to its goal of 1.3 million trees. In just four years, more than 650 acres of former pastureland have been reclaimed as native forest. While koa is the backbone of the forest, HLH is working to develop an entire native ecosystem by planting many other indigenous species of trees and understory, including ohia, mamane, naio, ko'oko'olau, kukaenene and both varieties of iliahi (Hawaiian sandalwood).
"We are seeing the return of the koa forest and along with it, the endangered birds that historically occupied these lands—it's remarkable how fast it is happening. What's more, this Legacy Forest is creating dozens of permanent green jobs, reducing the effects of global warming and, most importantly, doing it in a way that honors the Hawaiian culture," said CEO Jeff Dunster.
HLH owes the success of this project to organizations including the Four Seasons Resort Hualalai, one of its first cornerstone partnerships.
"We're truly honored to be a long-term partner of Hawaiian Legacy Hardwoods' efforts in reforesting our island with native koa trees," said Robert Whitfield, regional vice president and general manager of Four Seasons Resort Hualalai. "This impressive milestone is one of many that will be achieved, each bringing more life and sustainability to this magnificent place we call home."
The U.S. Department of Agriculture Farm Service Agency and Natural Resources Conservation Service have also been invaluable to this project.
"Hawaiian Legacy Hardwoods is now the largest participant in the Hawaii Conservation Reserve Enhancement Program (CREP) in the state and have been excellent participants. They have demonstrated how private landowners can be instrumental in providing public services while restoring a native ecosystem. These public services include reducing sediment and nutrient runoff into streams, increasing groundwater recharge, and controlling invasive species," said Lester Ueda, county executive director, USDA Farm Service Agency.
"The most notable impact; however, has come from individual tree sponsors," Dunster said. "The simple act of sponsoring a Legacy Tree, by countless individuals, has transformed this mountain. Each tree has a story to tell. Each one was planted and sponsored as a living legacy to honor an individual, memorialize a loved one or to commemorate an event. This forest really belongs to them."
More than a third of all Legacy Tree proceeds goes to charity. The HLH Legacy Tree program currently supports more than 330 charities worldwide – planting roots in the forest while planting roots in the community. Learn more about sponsoring your own legacy tree and watch a tree planting at http://www.legacytrees.org.
About Hawaiian Legacy Hardwoods Hawaiian Legacy Hardwoods has set aside 1,000 acres of its sustainable forestry project to establish the state's first Legacy Forest. HLH uses state-of-the-art technology backed by decades of experience to help preserve thousands of years of history, culture and natural resources. HLH is located 34 miles north of Hilo, above the historic Umikoa Village on the slopes of Mauna Kea. Visit http://www.HLH.co.