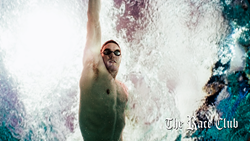 We have the greatest fans and we wanted to give something back to them.
Florida Keys, FL (PRWEB) May 06, 2014
The Race Club recently announced their first Instagram Giveaway. Fans of the premier swim club can now follow The Race Club's Instagram and be entered to win a prize worth $120.
Ideal for competitive or recreational swimmers, fans follow The Race Club's Instagram profile and tag two friends in the photo associated with the contest. That fan is then automatically entered to win 3 instructional swimming DVDs, a $120 value.
"We have the greatest fans and we wanted to give something back to them. These instructional videos are great for a swimmer at any level. Besides providing a high quality camp for competitive and recreational swimmers alike to improve on their swimming technique, we pride ourselves on providing superior instructional videos making our coaching available to the masses not just our campers," stated Gary Hall Sr., Technical Director of The Race Club.
The grand prize is 3 instructional swimming DVDS; Fast Swimming DVD: Life is Worth Swimming, Three Styles of Freestyle, and Fundamentals of Fast Swimming. Each DVD is held in high regards amongst The Race Club fans and provides at-home training to any swimmer.
Fast Swimming DVD: Life is Worth Swimming features 4-time Olympian swimmer George Bovell and Bobby Savulich, 6-time All American swimmer and World University Games gold medalist. Olympic medalist and Coach Gary Hall Sr. shares the 5 swimming disciplines needed for better swimming technique by coaching Bovell and Savulich throughout the film.
Three Styles of Freestyle featuring The World Team, this DVD reveals world-renowned spring Coach Mike Bottom's secrets to the three styles of freestyle in preparing his athletes for the biggest stage in sport. Utilizing an HD underwater video camera, swimmers won't miss a stroke.
Fundamentals of Fast Swimming breaks down the complexity that govern all stroke techniques into simple and meaningful training methods. Specific drills are demonstrated throughout the film to help swimmers improve their efficiency and speed in the water.
For more information about The Race Club, please contact Amy Hall or visit http://www.theraceclub.com or follow the swim club on Instagram: http://instagram.com/theraceclub.
Enter contest here: http://instagram.com/p/nV8RhVLL7Q/.
About The Race Club:
Established in 2003, The Race Club is directed and coached by Dr. Hall, a three-time Olympic medalist (1968, 1972, and 1976). Dr. Hall draws on his many years of being an ophthalmologist for his bio-mechanical approach to understanding and coaching the fundamentals of fast swimming techniques. The Race Club offers five swim camps year round for swimmers to come and practice with the best to improve their technique. For more information, please visit theraceclub.net or call 877-SWIM-RACE.