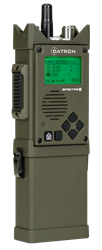 A significant milestone for this customer and our company
SOFEX Conference, Amman, Jordan (PRWEB) May 05, 2014
Datron World Communications, Inc. (http://www.dtwc.com), a US-based leading supplier of tactical military communications products, announced today the delivery of an initial order to a customer in Africa for its new Spectre V® HH2100V ruggedized tactical VHF handheld radios.
The HH2100V is an addition to the Spectre V family of tactical radios. The new handheld provides dismounted capability as a companion to the Spectre V PRC2100V manpack, which provides vehicular, base station, and retransmit capabilities. With the addition of the new tactical handheld, the Spectre V family of radios now enables the full deployment of secure, reliable, and rugged battlefield communication networks.
"Delivering our new Spectre V HH2100V handheld radio marks a significant milestone for this customer and for our company," said Kevin J. Kane, President and CEO of Datron. "Our customers will now be able to extend their tactical radio networks to the dismounted user with the same advanced capabilities they rely upon with the Spectre V PRC2100V manpack."
Designed to satisfy the demanding needs of today's sophisticated tactical communications user, Datron's Spectre V radios provide a leading-edge feature set and utilize a simplified user interface for ease of operator training. The PRC2100V manpack and HH2100V handheld radios are fully interoperable, delivering secure tactical communications in the 30-88 MHz band. Spectre V radios meet MIL-STD-810 specs for reliable operation in the harshest conditions, and feature embedded ECCM, COMSEC, and GPS location reporting capabilities.
To learn more about Spectre V radios and other communications solutions from Datron, visit us online at http://www.dtwc.com or contact our worldwide sales team at sales@dtwc.com.
About Datron World Communications, Inc.
Datron World Communications Inc. delivers voice and data radio communications systems worldwide. The company's offerings enable governments, security forces, and commercial users to establish and maintain critical voice, data, and video connectivity. Known for their ease of use and reliability, Datron's products and systems are currently deployed in over 80 countries. Datron World Communications, Inc. was established in 1971 and is headquartered in San Diego, California, USA. For more information, visit: http://www.dtwc.com.