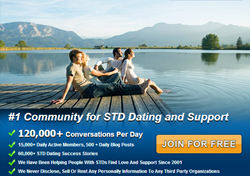 Los Angeles, California (PRWEB) May 07, 2014
PositiveSingles.com, the largest online community and dating website for people who live with HIV, Herpes, HPV and other sexually transmitted diseases (STDs), has announced the launch of its new iOS app. The iOS version 3.40 app was released on April 22nd and features a new, native iOS interface, is faster and more stable, as well as being easier to use.
This iOS app is designed for both iPhone and iPad users and is compatible for use with an iPod Touch. It requires iOS 6.0 or later and is optimized for use with the iPhone 5. Being only 20mb, the new PositiveSingles app is small and convenient to install, and users can select between either English or German languages too.
"We are excited about the new PositiveSingles app as mobility has come in leaps and bounds in recent years, with smartphones and tablets being a popular choice for browsing the internet," said Jenelle Marie, PositiveSingles' Spokesperson. "Many studies have shown that smartphone and tablet users will be outnumbering PC users within the next one to two years. As this trend continues to grow, the PositiveSingles team is growing with it: delivering a mobile app that allows our users to fully leverage the PositiveSingles website from the palm of their hand."
As PositiveSingles.com is the largest dating site for people who have an STD, the team remains committed to providing the best platform for their mobile users. As part of their devotion to their users, the PositiveSingles.com team will continue to update and better its mobile app as well as tweak the website, so that it provides its user base with the best possible experience.
You can download the newest version of PositiveSingles.com iOS app here:
http://itunes.apple.com/app/positivesingles/id411680724?mt=8.