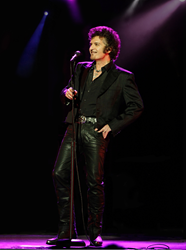 Gino Vannelli Live in LA is a captivating glimpse at a man whose voice and songs are loved by fans all over the world.
Norwalk, CT (PRWEB) May 07, 2014
"Gino Vannelli Live in LA" is an exciting CD/DVD package being released by Sono Recording Group on May 13, 2014. This incredible performance features Gino Vannelli performing his memorable hit songs "I Just Wanna Stop," "Living Inside Myself," "Black Cars," "People Gotta Move," along with other great songs such as "Appaloosa," "Nightwalker," "Brother to Brother," and "Wild Horses." This concert also features a special guest appearance by New York Yankee All-Star and Latin Grammy-nominated guitarist Bernie Williams. Behind the scene footage includes two beautiful bonus-videos of Gino performing "None So Beautiful As The Brave" and a re-make of "Canto." Recorded live onstage at the historic Saban Theater in Los Angeles, California on November 8, 2013, this package is available for online purchase from Sono Recording Group.
The DVD includes interesting and honest perspectives from insiders that will take you through rehearsals in the Vannelli's "famous garage" to the recording sessions at Davlin Recording Studios in Burbank, California that ultimately brought A&M's last release "Brother to Brother" to great success. You will be privy to exclusive eye-opening interviews with Geoff Emerik, who engineered most of the Beatles albums as well as Vannelli's "Gist Of The Gemini," Herb Alpert, co-founder of A&M Records and the driving force that signed Gino Vannelli to his first U.S. recording contract in 1972, engineer Norm Kinney, bassist Jimmy Haslip, and guitarist Carlos Rios. Joe Vannelli, co-producer and keyboard player on multiple Gino Vannelli albums, discusses the journey that finally brought them through the gates of A&M Records for the audition that started their musical career. Finally, Harold Chiles, head of A&M Promotions, reveals the "most unconventional" methods A&M used to bring Vannelli to the music forefront.
Gino Vannelli is the recipient of multiple Juno awards and Grammy nominations, and he has sold more than 10 Million records world-wide. More info at ginov.com.
"Gino Vannelli Live in LA" shows Vannelli and his band performing at their very best--every note faithfully captured and richly recorded. Altogether, this album package offers a "fascinating, entertaining, intriguing, funny, and captivating" glimpse at a man whose voice and songs are loved by fans all over the world.