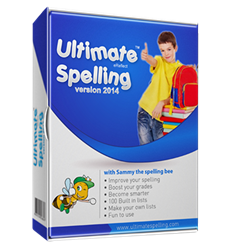 Spelling is an important component of language learning. Learning to spell cements linguistic knowledge and helps people keep word-related information in their long-term memory.
New York City, NY (PRWEB) May 11, 2014
When a child learns to spell they engage in kinesthetic learning. In other words, they actively practice their knowledge in order to learn it. A beginning speller uses pencil and paper to learn spelling (orthography) skills; the process of using the fingers and hand along with the brain is called kinesthetic or tactile learning. Unlike passive learning, the kinesthetic student is learning through experience and physical activity. Some people are concerned that the proliferation of touch-screen devices means that young spellers today devote less time on kinesthetic learning of spelling, and risk losing the ability to gain adequate spelling mastery.
Kinesthetic practice is essential in learning spelling, especially if children are spending more time these days touch typing on computers and tablets. Without the mechanics behind the hand-eye coordination in implementing spelling instruction, a child's brain cannot learn orthography as efficiently. In addition, the neural connections formed during the kinesthetic process are essential for long-term memory storage and retrieval of the spelling information being learned. Ideally, a student begins by understanding the sound-to-letter correspondence of the correctly spelled word, chooses between possible alternative renderings, and then put the letters into a logical sequence using pen and paper. This is a complex cognitive practice that brings together different linguistic structures, cognitive processes, and the kinesthetic apparatus.
Spelling is an important component of language learning. Learning to spell cements linguistic knowledge and helps people keep word-related information in their long-term memory. When reading and spelling are taught at the same time, the learner has a better chance of becoming a good reader and a skilled language user.
The fact that spelling on paper requires the tactile contribution of the speller in a way that typing does not is explained by how various brain activities work together. The learner activates the brain's kinesthetic/motor regions, their linguistic knowledge, and their senses of hearing and sight in order to spell a word phonetically and correctly.
eReflect encourages parents and teachers to avoid relying on computer-based training when teaching students spelling. Encouraging the use of traditional pen or pencil and paper will ensure the student is efficiently learning how to spell. While spelling software systems are excellent ways to show children that learning how to spell can be fun, interactive, and personalized, these computer-based programs don't activate the kinesthetic part of the spelling process. Spelling is an essential skill that children need to master and the combination of pen-and-paper and keyboard-based spelling activities seems to be the most promising approach, concludes eReflect.
For more information about how Ultimate Spelling software can improve spelling performance for you and your family, please visit the official website at http://www.ultimatespelling.com.
About Ultimate Spelling™
Ultimate Spelling provides a modern and easy to use spelling software that has been designed with one goal in mind – making children want to learn.
It is a fast and easy way to master even the most complicated spelling, without the need to write long lists or complete boring tests.
In fact, Ultimate Spelling provides more than just spelling help. It is a complete educational resource that boosts all level of a child's literacy.
Containing a personal computer tutor, Ultimate Spelling is the most realistic step-by-step guide to flawless spelling ability.