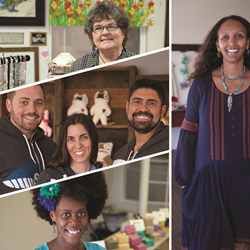 [At Fisherman's Village] I feel the new energy and its very exciting.
Los Angeles, CA (PRWEB) May 07, 2014
When the creative team of Indy Plush opened its "old world" hand-crafting shop and showroom in Marina Del Rey's Fisherman's Village, it was no accident. Indy Plush™, the company known for trademarked slogan "saving the world a doll at a time™" had found a home in need of saving.
Called "The Jewel of the Marina," Fisherman's Village was constructed 50 years ago in an architectural style that celebrates America's New England's heritage. Fisherman's Village is located on the Eastern side of Marina Del Rey, California with excellent sunset views. The Village comprises a broad waterfront promenade along numerous brightly painted wooden buildings, a lighthouse, water fountain, and commercial boat docks. It has excellent views of the channel, the marina, Playa del Rey, and the open sea on the West and beautiful unobstructed views of the San Bernardino Mountains on the East. Fisherman's Village is strategically located midway between one of America's longest cycling and bicycle path along the beaches of Southern California. Tourist attractions include: para sailing, live music concerts, restaurant and café dining; harbor cruises, fishing and whale-watching cruises; paddle-boarding, boat, and bicycle rentals; Catalina Island ferry service, souvenir shops, a summer public water shuttle (harbor ferry) service, and it is now the hub for Los Angeles double-decker tourist buses.
The Village was always a popular tourist destination for travelers, especially those stopping at LAX for connecting flights to other North American cities and even Europe. Once 9/11 happened, many tourists and tourism companies stopped going to the Village. Shop owners, who were given no assistance whatsoever to keep their shops until business bounced back, were forced to close shop. Once empty, lease prices dropped, leases were made to non-retailers. The feel for the once-happening village changed to a quiet place with an amazing location.
When Indy Plush™ began searching for a home to make its environmentally friendly plush toys and clothing it looked downtown LA, Venice, Mid-Wilshire, Koreatown, Culver City and West Los Angeles. It wasn't until a stranger suggested Fisherman's Village that long-time Marina del Rey resident and Indy Plush's Managing Partner, Plinio Garcia, decided to look. At first, Plinio was skeptical. After all, this location was along the waterfront. But Plinio began to visit the Village and noticed the empty retail space and began a conversation with the management. Once he heard that there had been talk to "destroy Fisherman's Village to make a parking lot and move the public boat dock," Plinio was determined to "save the village."
Plinio and his partners, Andrew Ruesch and Franceil Masi were outraged that the County had plans to tear down the village. Even though they were offered a very short lease because of the impending doom, they took it upon themselves to not only move in and create a beautiful "atelier," but they began to tell their creative friends. In less than six months, three new retailers have moved in. All share the same vision: hand-crafted, made in the USA products. The Village is living up to its name and its tradition. There is an American renaissance that is sustainable and family-friendly.
More recently, the team has reached out to various newspapers and organizations and a journalist, for what is known as the "bible of boaters," The Log, came to the Village and made an extensive investigation of what is happening. The article by John Scafetta can be found here or in their April 24th edition The Log distributed throughout Marinas in California and Mexico. Pam Stanley, owner of Pammy's Place, recently said, "I feel the new energy and its very exciting."
Fisherman's Village is located at 13763 Fiji Way in Marina Del Rey, CA. More retailers are expected to move in this Summer to join Indy Plush, Leulela, Pammy's Place, Jaded Moon, and MOMO.