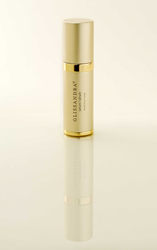 Vancouver, British Columbia (PRWEB) May 07, 2014
Inspired by the latest trends in skincare, Glissandra Skincare Inc. introduces the new formula serum, consisting of "Micro Pearl Glissandrin". The new serum is an improvement over the current version; it enhances absorption, improves micro circulation and will result to better radiance. The new serum replaces the current version.
Micro Pearl Glissandrin is developed from the company's proprietary ingredient, Glissandrin, with Schisandrin B and (-)Schisandrin B at its core. Schisandrin B and (-)Schisandrin B are reported to be the safest and most potent substances to address mitochondrial decay - the fundamental cause of aging. Micro Pearl Glissandrin is Schisandrin B and (-)Schisandrin B crystals rendered at micro-level particle sizes. With molecular structure as well as molecular size compatible with the skin cell membrane, Micro Pearl Glissandrin is readily absorbed on contact with the skin through the natural process of passive diffusion.
There is no change in ingredients from the current serum, and the concentration for each of the ingredients also remains the same. Only the form of the main ingredient, Glissandrin, is now in micro-size crystals.
There will be no price increase over the current serum.
The texture of the new serum may be slightly different: when rubbed against fingers, a slight grittiness may be felt from the micro-size crystals; however, when applied to the face, the micro-size crystals will be readily absorbed into the skin. It is suggested that the new serum be put on the face using an upward circular motion, as such motion may bring about a mild massaging effect, resulting to better absorption, improved micro circulation and increased radiance.
For people who do not have time, or do not wish to massage the face, the new-formula serum can simply be spread on moistened skin, followed by the Glissandra face cream and eye cream on top as desired, as the Micro Pearl Glissandrin will dissolve and be absorbed by the skin in a matter of seconds.
In some incidences, the massaging motions could also induce a mild exfoliation, causing the removal of dead skins and waste matters from the face. If that happens, the residues can simply be brushed off the skin.
About Glissandra
Glissandra™ is the first bioceutical skincare regimen proven to effectively reduce the visible signs of skin aging and promote the healthy appearance of skin. At the core of its success lies Glissandrin™ an innovative ingredient powered by the youth-preserving properties of Schisandrins, in particular Schisandrin B and its isomer (-)Schisandrin B, all natural compounds extracted from the Schisandra berry. Backed by 23 years of groundbreaking research, Glissandrin™ targets the major underlying cause of skin aging – mitochondrial decay. This 3-Step Skincare System is a comprehensive solution that dramatically reduces the visible signs of aging and restores skin's youthful appearance.
Glissandra™ distributes its products through network marketing, also know as multi-level marketing (MLM).