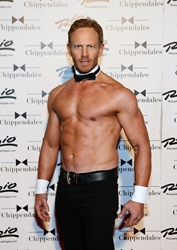 The last year has been amazing for me and it started with signing on with Chippendales last summer as their guest host
Las Vegas, NV (PRWEB) May 06, 2014
Due to popular demand, Chippendales® has announced that "Sharknado" and "90210" star Ian Ziering will return to its show at the Rio All-Suite Hotel & Casino in Las Vegas as as a celebrity guest star from June 12 through July 19, 2014. Since joining the acclaimed Las Vegas production of Chippendales last summer, Ziering's career has skyrocketed with hits such as the SyFy "People's Choice" nominated cult-film, "Sharknado" and, the forthcoming "Sharknado 2" set for release in July 2014. The Las Vegas Sun said of Ziering's Chippendales performance: "Ian proved to be a sizzling and sexy guest host and performer…easily fitting in with the cast of hunks," and, Perez Hilton exclaimed: "OMG, this is seriously too HAWT to handle!"
"Ian has been a stellar addition to our Chippendales family over the last year," says Kevin Denberg, Managing Partner, Chippendales. "He completely embraced the show and is the perfect blend of talent, charm and sex appeal, which has made him a huge hit with not only our fans but, the critics as well. We are thrilled to have him back with us this summer, following the wake of a tremendous year for him as the star of 'Sharknado' and the forthcoming 'Sharknado 2'."
"The last year has been amazing for me and it started with signing on with Chippendales last summer as their guest host," says Ziering. "Performing with these talented guys in front of packed houses at the Rio was amazing and, it was during my last week with the show that 'Sharknado' became this phenomenon. So, the fact that I am returning to the show and 'Sharknado 2' is set for release in July means it's going to be another great summer – I can't wait!"
Ziering, the first guest start to return for an encore engagement with the famous male revue is part of an exclusive roster of celebrity stars at Chippendales, which includes: Joey Lawrence, Jake Pavelka ("The Bachelor"), and Ronnie Magro ("Jersey Shore"), amongst others. For more than three decades, sinful schoolboy charm and naughty fantasy, colliding with the boy next door has been the winning combination that has solidified Chippendales as the premier destination for birthday, divorce, and Las Vegas bachelorette parties. In March 2014, for the third consecutive year, the production won the Readers' Choice in the annual "Best of Las Vegas" awards as "Best Male Strip Show" – adding to an already impressive collection of accolades.
About Ian Ziering:
Ian Ziering began his showbiz career at the age of 12 doing national commercials, which led to various stage roles in national touring productions. He landed his first major film role as Brook Shields' younger brother in "Endless Love," which led to a featured role on the hit daytime soap opera, "Guiding Light." However, it was the 1990 teen drama, "Beverly Hills 90210," that catapulted Ian into heartthrob super-stardom as Steve Sanders for over a decade. Riding the wave of "90210," Ian also appeared in the feature film "No Way Out" with Russell Crowe and, has had extensive success doing voiceover work and guest appearances on various television shows. In 2008, Zieiring donned his dancing shoes with partner Cheryl Burke on the hit ABC series, "Dancing with the Stars." The duo remained fan favorites for many weeks taking them into the show's semifinals. In addition to his ongoing acting roles and voiceover work, Ian is a much sought-after television host and, was most recently seen hosting HGTV's "A List Pets." In Summer 2013 he received rave reviews for his performance as celebrity guest host of "Chippendales" in Las Vegas and, his summer SyFy hit film "Sharknado" became the biggest film phenomenon to hit social media. The film also received a "People's Choice Award" nomination and such success that Ian recently finished filming of "Sharknado 2," which is set for release in July 2014. He currently resides in Los Angeles with his wife Erin and daughters Mia Loren and Penna Mae. Follow Ian on Twitter @IanZiering.
About Chippendales:
Named "the most-wanted men in Vegas!" by ET's, The Insider, Chippendales captures the perfect balance of sex appeal and tasteful teasing, eliciting waves of screams from their excited audience. This high energy, fully choreographed, interactive show features some of the most physically elite men in the world who playfully dance and sing their way into the hearts of birthday girls, bachelorettes and girlfriends who just want to have fun. In March 2014, for the third consecutive year, Chippendales was named the "Best Male Strip Show" for the Las Vegas Review Journal's prestigious "Best of Las Vegas Awards." Annually, the Men of Chippendales will be seen by almost 2 million people worldwide. The cast, a very exclusive fraternity with only 20 members, is split across two productions – one based in Las Vegas at the Rio All-Suite Hotel & Casino and the other, currently selling out venues around the world. The Chippendales who have become icons of American Pop Culture and are about to celebrate their 35th Anniversary, have been featured on numerous national television shows, including the Emmy Award-winning CBS series, The Amazing Race, The Ellen DeGeneres Show (where TV legend Betty White received a special surprise performance), and The Real Housewives of Beverly Hills (giving Lisa Vanderpump and Taylor Armstrong a night they will never forget). Chippendales, one of the world's most recognized brand names, is the premier provider of entertainment for women with a flagship production at the Rio All-Suite Hotel & Casino in Las Vegas, and a U.S and international touring troupe. The Company produces Broadway-style shows worldwide and licenses its intellectual property for select consumer products ranging from apparel and accessories to slot machines and video games. The company also operates Chippendales.com, an on-line lifestyle and entertainment destination for women. Chippendales® was established in 1979 and has headquarters in New York, with offices in Las Vegas and London. For additional information visit http://www.Chippendales.com; find us on Facebook and Twitter @Chippendales.
Rio All-Suite Hotel & Casino
Rio All-Suite Hotel & Casino, home of the World Series of Poker, offers guests a unique all-suite hotel experience. Complete with 2,522 all-suite hotel rooms, the property overlooks the famous Las Vegas Strip and sits one block west of the famed boulevard. The resort features a variety of entertainment options including headliners Penn & Teller, the world-famous Chippendales and Crown Theater. Rio is home to a diverse array of dining and nightlife experiences including, the famous Martorano's, Voodoo Steak, KJ Dim Sum & Seafood, iBar and VooDoo Beach. Rio also offers the Rio Secco Golf Club. Recognized by USA Today as one of the "Top 10 Golf Destinations in the World," Rio Secco Golf Club is an 18-hole championship course designed by famed architect Rees Jones and home to the Butch Harmon School of Golf. For more information, please visit http://www.riolasvegas.com or caesars.thedigitalcenter.com to access media materials and request high-resolution images. Find Rio on Facebook and follow on Twitter.
Chippendales Performance Schedule at the Rio All-Suite Hotel & Casino:
Chippendales performs nightly at 9:00 p.m., with additional shows on Thursday, Friday and Saturday at 11:00 p.m. Ian Ziering's limited engagement runs June 12 – July 19th (Thursday through Sunday night performances only). Tickets are $61.45 to $89.80 + tax and fees (18+) and can be purchased by calling (702) 777-7776 or by visiting http://www.Chippendales.com.