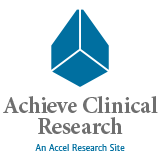 "Osteoarthritis (OA) is the most common joint disorder, which is due to aging and wear and tear on a joint." - National Library of Medicine
Birmingham, AL (PRWEB) May 13, 2014
*To see if you qualify for this OA Clinical Trial in Birmingham, visit Achieve Clinical Research on the web (http://www.achieveclinical.com/) or contact us directly at (205) 380-6434. There is no cost to participate, no insurance is required, and you may receive compensation for time and travel.
STUDY DESIGN
This is a vehicle-controlled, multi-center Phase 2b efficacy and safety trial of subjects with moderate to severe pain associated with osteoarthritis of the knee. Only one knee, designated the "target knee", of each subject will be studied in this trial, conditional upon the subject meeting all inclusion and exclusion criteria. If all entry criteria are met at the Baseline visit, the subject will be randomized to either the experimental gel or vehicle control (a placebo gel).
This study will consist of six visits with a total duration of at least 9 weeks: 1) Screening Period of at least 7 days; 2) Treatment Period of 6 weeks (±3 days); 3) Follow-up Period of 2 weeks (±3 days). Randomized subjects will apply the experimental gel for the six week Treatment Period and will return to the clinic for assessments at Weeks 2, 4, 6 and 8.
BACKGROUND & RATIONALE
This trial is being performed to assess the efficacy and safety of this new type of gel when topically applied to subjects with moderate to severe pain associated with OA of the knee for six consecutive weeks. This trial will be conducted in compliance with this protocol, Good Clinical Practices (GCP) and all applicable regulatory requirements.
The study is designed to discern the potential for clinical benefit of this experimental gel with the primary efficacy outcome of Change in Pain on Movement and the principal secondary outcome of Change in Current Knee Pain. These endpoints are well established and accepted endpoints for OA pain studies and were the two primary efficacy signals observed in the Phase 2a study.
PRIMARY OBJECTIVES
To investigate the efficacy and safety of this new topical gel in subjects with moderate to severe pain associated with osteoarthritis of the knee following cessation of pain therapy.
INCLUSION CRITERIA
A subject may be included in the study if he/she meets each of the criteria as presented below:

Age 45 to 80 years old, inclusive
Clinical diagnosis of osteoarthritis in one target knee based on the following American College of Rheumatology (ACR) criteria:
Knee Pain
At least 1 of 3:
Age greater than 50 years
Morning stiffness lasting less than 30 minutes
Crepitus on motion
Osteophytes on radiograph

Symptoms associated with osteoarthritis of the knee (including pain) for at least 6 months prior to Screening
Knee pain associated with osteoarthritis, which required NSAID or other therapy for at least 15 days during the preceding month
Radiographic evidence of osteoarthritis by Kellgren-Lawrence classification with a rating of Grade 2 or 3 in the target knee (does not include borderline Grade 2), as confirmed by the Sponsor's designated rheumatologist through radiographic review of x-ray(s) taken no more than 1 year prior to the Screening visit. (Sharpening of the tibial spine is not considered to be an osteophyte)
Meets pain assessment entry criteria as defined by Sponsor's pain eligibility algorithm and calculated by the study Interactive Web Response System
No clinically significant change in physical activity and/or therapy for the past 3 months
Able to provide written informed consent prior to initiation of any clinical trial-related procedures; and willing and able, in the opinion of the Investigator, to comply with all requirements of the clinical trial for the duration of the trial (such requirements include, but are not limited to: attending all study visits, refraining from elective surgery or extensive travel during participation).
*Achieve Clinical Research conducts Phase II-IV Clinical Research Studies in Alabama. For more information about participating in an Osteoarthritis Clinical Study, please visit our website or contact us directly at (205) 380-6434.