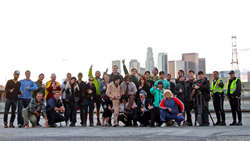 It's always a challenge to enhance the visual presence of an iconic brand. At REP Interactive we work to preserve and enhance the integrity of businesses while ushering them into the future. -Steve Gatena, CEO of Video Agency Rep Interactive
Hollywood, CA (PRWEB) May 06, 2014
The Communicator Awards has named Los Angeles Based Video Agency, REP Interactive, as a twenty-seven time award winner in the 20th Annual Communicator Awards for their work for brands like Coldwell Banker, Marriott Hotels, Hilton Hotels & Resorts, and SUJA Juice. With over 6,000 entries received from around the world, this is truly an honor. The Communicator Awards is the largest and most competitive awards program honoring the creative excellence for communications professionals.
After REP Interactive won over 20 Telly awards, it was announced that they also received 27 Communicator Awards in addition to being nominated by ThinkLA as Los Angeles' Boutique Agency of the Year. REP Interactive has become one of the world's most prestigious video companies, winning over 50 awards in the last two years for their work with television commercials, online video content, video editing, branded entertainment, business to business communication, copywriting, and sports media.
"We are both excited and amazed by the quality of work received for the 20th Annual Communicator Awards. This year's class of entries is a true reflection of the progressive and innovative nature of marketing and communications," noted Linda Day, executive director of the Academy Interactive and Visual Arts. She added, "On behalf of the entire Academy I want to applaud this year's Communicator Awards entrants and winners for their dedication to perfecting their craft as they continue to push the envelope of creativity."
"Our team of creative communication professionals definitely impressed me this year. It's always a challenge to enhance the visual presence of an iconic brand. At REP Interactive we work to preserve and enhance the integrity of businesses while ushering them into the future. Our video content is designed to engage and entertain audiences while strengthening our customer's brand. Being recognized for achieving such high quality work helps us set the bar even higher at REP Interactive. We are working harder than ever to establish a new standard in online video and corporate media and I think our team is already trying to out do themselves for next year." Steve Gatena, CEO of REP Interactive.
Fortune 500 Companies trust REP Interactive to produce award winning Video & Broadcast Media solutions. REP Interactive helps companies engage new clients, increase brand equity, and achieve business goals by providing multidisciplinary video solutions to complex challenges.
Since 2009, clients like Coldwell Banker, Marriott Hotels, and the Los Angeles Dodgers have trusted REP Interactive to create media assets for their business. As a full-service agency, REP Interactive provides clients with a variety of services including: strategic planning, content creation, and content distribution.
REP's cross-platform expertise enables clients to leverage a variety of communication mediums including digital signage, broadcast television, online video, and mobile media. To date, REP Interactive has created thousands of digital assets, won dozens of awards, and been featured in media outlets like Forbes, HGTV, and OK! Magazine.
To find out more about REP Interactive visit http://www.repinteractive.com.
About The Communicator Awards:
The Communicator Awards is the leading international awards program honoring creative excellence for communication professionals. Founded by communication professionals over a decade ago, The Communicator Awards is an annual competition honoring the best in advertising, corporate communications, public relations and identity work for print, video, interactive and audio. This year's Communicator Awards received thousands of entries from companies and agencies of all sizes, making it one of the largest awards of its kind in the world. Please visit http://www.communicatorawards.com for more information.
The Communicator Awards is sanctioned and judged by the Academy of Interactive and Visual Arts, an invitation-only body consisting of top-tier professionals from a "Who's Who" of acclaimed media, advertising, and marketing firms. Please visit aiva.org for a full member list and more information.
About REP Interactive
REP Interactive is an award winning Video & Broadcast Media Agency. REP empowers businesses with video & broadcast media solutions that increase revenue, decrease expenses, and achieve communication goals. Since 2009, clients like Coldwell Banker, Marriott Hotels, and GE Healthcare have relied on REP Interactive for their ability to create innovative solutions to corporate communication problems.
Please contact Chris Carter, REP Interactive for inquiries: Chris(at)repinteractive(dot)com or call 888-789-1299.