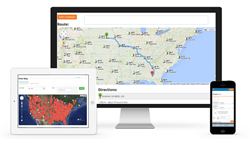 Long Beach, CA (PRWEB) May 08, 2014
Load Boards are changing everyday. ComFreight wants to change them forever and turn them upside down. With its latest set of updates and releases ComFreight is moving more and more freight into the cloud. The goal of this says Lead Co-Founder Steve Kochan was recently stated at a meeting with local carriers in California, "...we're trying to make it less stressful to find freight for carriers, truckers, owner-operators, smaller brokers, freight agents and dispatchers."
With so many Load Boards on the market or searchable on the internet today how does ComFreight intend to change the game? Kochan was again quoted as saying, "Our goal is not to create another Load Board; our goal is create a open exchange and marketplace for shippers, carriers and brokers with no strings attached, no hidden fees, no ads and no software to download." So far ComFreight has tried to stay ahead of the curve by developing cloud-based technology with a lower price than their competition. "We let users search loads on state by state maps and even let them see specific route and weather data before they even sign up," stated Kochan.
The strategy of not taking a percentage margin or a cut of a closing bid or an automatically generated rate confirmation from their system and staying away from taking any dispatch fee of any kind is usually not the business model with the highest upside potential in the logistics industry. ComFreight says their goal is to provide value to users who are serious about building their business whether their web app is a mobile friendly supplement to their user's current load boards of choice or the only tool in the shed to find freight that they end up using.
The most recently released update for the web app was a faster auto-complete and streamlined user interface for direct shippers. "We cater to our direct shipper users to show them that there are other ways to get lower freight rates from smaller carriers and that there are other options out there than just FedEx and UPS."
So who are these other options? "Smaller carriers, self-owned trucking companies and smaller mom and pop freight brokerage and dispatch services," said Kochan.
Kochan promises to keep the updates coming as more features are set to release in the coming months. In the meantime the landscape of logistics software continues to change and ComFreight is vying for its place in the "Future of Logistics."