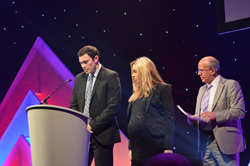 Witnessing the creative talent that has been showcased throughout the north west in recent months was a truly humbling experience and we are very proud to have been the headline sponsors for the ceremony. Congratulations to all nominees and winners
Cheshire, United Kingdom (PRWEB UK) 7 May 2014
Award-winning digital agency Click Consult was the headline sponsor for The Prolific North Awards 2014 last week, an annual awards ceremony that celebrates creative talent within media companies across the north of England.
Click Consult's company secretary Katherine Owen and Marketing Executive Andrew Smith took to the stage at the beginning of the evening to welcome guests to the ceremony and provide an overview of the company.
Andy spoke about the challenges Click Consult have overcome as a company throughout the past few years, due to the rapidly changing world of digital. "As I'm sure you will agree, we are all operating within the ever-changing digital industry which means we must all continue to evolve as businesses, by adapting to Google's updates and the way the world of digital works in general," he said.
"Subsequently, we - no doubt like many others in this room - have experienced highs and lows over the past couple of years, but these have added to our experience and created a firm foundation for our future."
Katherine then took to the microphone to say a few words about the digital marketing agency's most recent charity ventures before closing her speech with a good luck wish for all of the nominees. "But anyway that's enough about us. Tonight is all about you," she said. "We would like to wish all nominees the best of luck with the awards they have been nominated for and we hope everyone has a thoroughly enjoyable evening."
The digital agency's Marketing Executive, Laura Taylor presented Ahoy Digital with the 'Small Digital Agency' award. Other winners include Degree 53 for 'Best Newcomer', ITV Granada Reports for the 'TV Programme - News & Factual' category and Citypress for 'Large PR Agency'.
Matt Bullas, Click Consult's founder and CEO said, "It was a fantastic turn-out at The Prolific North Awards last week. Witnessing the creative talent that has been showcased throughout the north west in recent months was a truly humbling experience and we are very proud to have been the headline sponsors for the ceremony. Congratulations to all nominees and winners."
If you would like to read more about The Prolific North Awards 2014 please visit our blog page - http://www.click.co.uk/blog/winners-prolific-north-awards-2014/.
About Click Consult:
Located in North West England, Click Consult is one of the UK's leading digital marketing agencies. With over 60 professionals employed and with a portfolio of over 200 clients from across the UK, Click Consult works with businesses looking for a tangible, measurable return on investment in digital marketing.
Search marketing is at the heart of Click Consult's offering, but it also provides a range of other web services, including content management, conversion rate optimisation and social media. Click Consult is a Google AdWords and Microsoft adExcellence certified company.
Contact Click Consult:
Andrew Smith
Click Consult®,
Unit B1, Willow House,
Oaklands Office Park,
Hooton Road, Hooton,
Cheshire,
CH66 7NZ
Tel: 0845 205 0292
Email: hello(at)click(dot)co(dot)uk